Alpaca fiber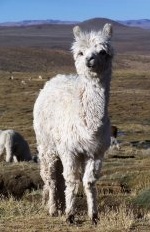 Alpaca fiber has long been held in esteem for its qualities, so it's no wonder that production is increasing rapidly in a number of countries including the UK.
The alpaca is a 'camelid', derived from the South American wild vicuna and closely related to the llama.
The animal's cute but slightly bizarre looks are more than made up for by the qualities of its fleece:
+
similar to fine wool (18 - 30 microns)
soft
light
lustrous
strong
luxurious
hardwearing
warm (said to be up to 30% warmer than merino)
does not pill
has no lanolin and isn't 'prickly' so better for those with an allergy to wool
_
less elastic and weaker than most wool yarns
not naturally water-repellent becuase of its lack of lanolin
Alpacas are usually sheared annually and on average, one fleece will weigh between 2 and 5 kg. There are more than 20 natural fleece colours, so there is less need for dyeing.