'Clematis' Ashford Traditional Spinning Wheel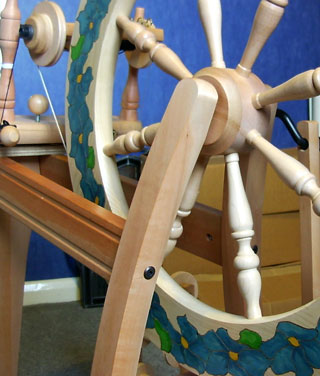 This is my favourite of my wheel decoration designs, and is the same as the decoration on my own wheel.
This is a factory-new Ashford Traditional (still flat-packed) single or double-drive, hand decorated with my tiffany-style clematis design in blues.
I decorate these to order, so please allow an extra day or two on the usual delivery time.
See this spinning wheel on video
As per the regular Ashford Traditional;
Includes:
four bobbins and vertical lazy Kate (pictured)
welcome pack including 'Start Spinning' booklet
Free from handspinner.co.uk
wax polish
fibre
yarn gauge
copy of The Wheel magazine
Specifications:
wheel diameter: 56cm (22in)
orifice: 10mm (3/8in)
orifice 67cm from ground
takes standard bobbins - capacity: 100gm (3-4oz)
ratios: 6.5, 12.5, 17.5
ball bearings
Single drive, natural finish :
£470

available from stock
Double drive, natural finish :
£490

available from stock
plus postage NB - UK only
Next dispatch: Tue 26 Sep