Ashford Elizabeth 2 Spinning Wheel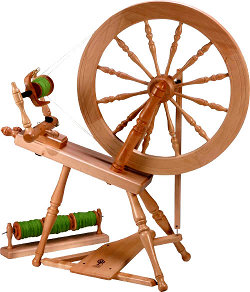 The Ashford Elizabeth is the largest wheel in Ashford's range and it looks magnificent. The classic fairytale wheel. Beautifully crafted from New Zealand silver beech throughout.
The drive wheel itself is very large, 24"/61cm, mounted on ball bearings, which means that it is smooth, effortless and comfortable to treadle for long periods. Once you've started it with a gentle push, it almost turns itself, particularly in double-drive mode.
The Elizabeth is able to switch between double and single-drive modes, to suit your preference and different styles of spinning.
Includes:
four bobbins
Elizabeth horizontal lazy Kate (pictured)
Free from handspinner.co.uk
wax polish
fibre
yarn gauge
copy of The Wheel magazine
free carriage
Options:
high speed kit for double drive wheels (Ratios: 14, 17.5 and 22 to 1)
double treadle kit
distaff
Specifications:
Wheel diameter: 61cm (24in)
Orifice diameter: 10mm (3/8in)
Bobbin capacity: 100gm (3-4oz)
Ratios: 8.5, 11, 15 & 18:1
Weight: 9kg (20lbs)
Ball bearings
Assembly instructions (included with the wheel but you can view / print here)
Double drive, single treadle, natural finish :
£725
now out of stock
what's going on?
plus postage NB - UK only
Next dispatch: Thu 18 Jan