Ashford Traditional Spinning Wheel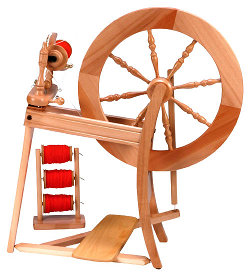 The Ashford Traditional is the world's most popular spinning wheel and is terrific value for money for beginners and experienced alike. Strong and sturdy, it is made from New Zealand silver beech throughout. The design has only seen minor improvements over 40 years.
In short, the perfect first (and last!) wheel.
Out of the box, it comes with a single treadle and either single-drive or double-drive (choose when buying). You can add the second treadle and you can buy a double-drive kit to convert a single-drive model.
Includes:
four bobbins and vertical lazy Kate (pictured)
welcome pack including 'Start Spinning' booklet
Options for your Traditional wheel:
sliding-hook flyer
jumbo sliding-hook flyer
high-speed flyer kit
double-drive version or double-drive kit to convert single-drive wheel
double treadle kit
extra bobbins (Takes standard bobbins, single or double drive as appropriate.)
distaff
Specifications:
wheel diameter: 56cm (22in)
orifice: 10mm (3/8in)
orifice 67cm from ground
takes standard bobbins - capacity: 100gm (3-4oz)
ratios: 6.5, 12.5, 17.5
ball bearings