Ashford Traveller Spinning Wheel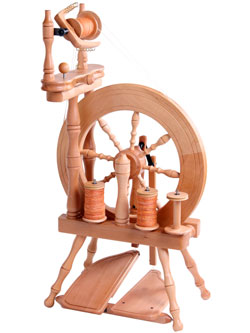 The Ashford Traveller is as well-made as the Traditional. It is made from New Zealand silver beech throughout.
It is an upright or 'castle' style wheel. The flyer is positioned over the wheel giving the wheel a much smaller footprint than the Traditional. The compact design is therefore more portable - it will fit in the boot of your car more easily than the Traditional or Elizabeth.
The flyer is quite high, 80cm from ground to orifice.
It has a double treadle as standard, which makes treadling easier and makes it possible to start and stop the wheel with your feet. It comes with Single drive, but there is a double-drive option.
Includes:
4 bobbins and built-in lazy Kate (pictured)
Double treadle
welcome pack including 'Start Spinning' booklet
Free from handspinner.co.uk
wax polish
fibre
yarn gauge
copy of The Wheel magazine
free carriage
Options for your Traveller wheel:
sliding-hook flyer
jumbo sliding-hook flyer
high-speed flyer kit
double-drive or single-drive option when you buy the wheel. The double-drive wheel switches between double and single drive.
double treadle kit (if you buy a new wheel from me it will be double-treadle, but if you have an older single-treadle wheel, the kit will convert it to double-treadle)
extra bobbins
free-standing lazy kate
distaff
Specifications:
wheel diameter: 46cm (18")
orifice 10mm (3/8in)
orifice 83cm from ground
takes standard bobbins - capacity: 100gm (3-4oz)
ratios: 5.5, 10 & 14:1
ball bearings
plus postage NB - UK only
Next dispatch: Thu 18 Jan