In Sheep's Clothing: A Handspinner's Guide to Wool by Jane Fournier and Nola Fournier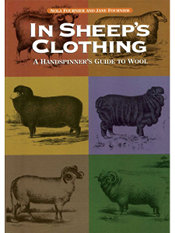 This isn't a coffee-table book in the sense of being a heavy tome with thick glossy pages with colour photos on every page to leave out to impress visitors.
It is a coffee-table book in the sense of being a definitive reference you'll want to keep close to hand. As soon as I'd flicked through it for the first time, I was in no doubt I had to have a copy on my shelf.
It's for improving spinners who want to understand and make informed choices when buying or selecting wool, and the best techniques to suit a particular wool when spinning it for a particular project.
The cover does lead you to believe that it contains pictures of each breed of sheep. There are a few photos of the sheep themselves, and more certainly would be nice, but the clue is in the subtitle; "a handspinner's guide to wool".
The largest part of this book is an A-Z reference describing the wool from 100 breeds, sorted into sections by type; fine, long, downy and so on.
Each entry does have a good large close-up of a lock of wool, which as you leaf through does help you to recognise or identify and understand the varied characteristics of our raw material.
The book has had some criticism for its lack of colour, but I'm not sure that it would add any value to the close-up pictures of the locks of wool, which make up the vast majority of the photographs.
Then follows expert advice on choosing fleece and recognising faults.
Although this obviously isn't primarily a 'how to' book, the last 30 pages or so do cover preparation and drafting techniques, including things that you don't read about quite as often, such as using a mechnical picker, flick carding and combing. A glossary and a few paragraphs about posture, relaxation and unwinding exercises really finish off a very desirable book beautifully.
paperback, 224 pages, lots of black and white photographs and illustrations. 7" x 10"
Shiela Dixon, 7 May 2009
£17.99

available from stock
plus postage NB - UK only
Next dispatch: lunchtime Tue 22 Nov