The Ashford Book of Learn to Spin - Anne Field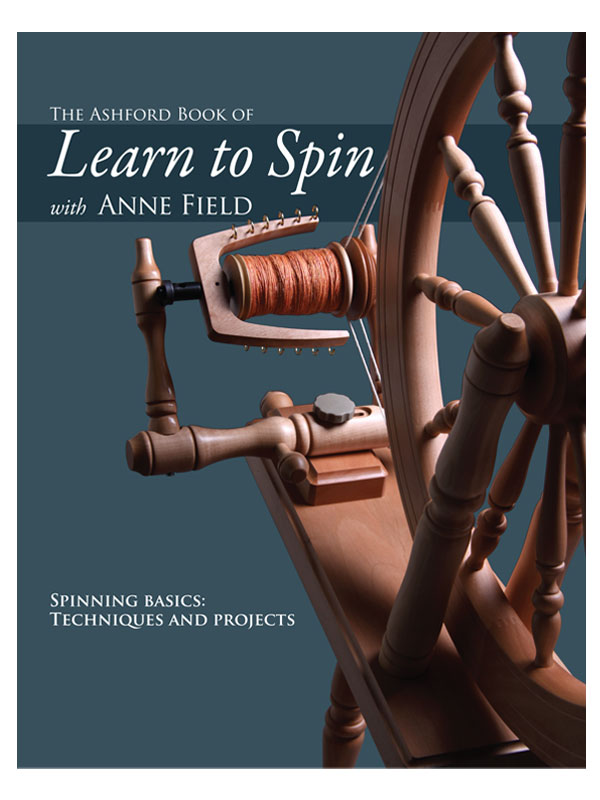 Contents
The spinning process
Wheels & how they work
Other ways to spin
Wool
Alpaca
Silk
Mohair
Angora rabbit
Cotton
Manufactured fibres
Blended fibres
Novelty yarns
This may well be a successor to Ann Field's Ashford Book of Spinning which was discontinued a while ago. But this is a completely new book, not a revision.
The book is a heavyweight at 200 pages but feels friendly and accessible with lots of illustrations and inset boxes.
Anne sets out to teach you to spin from scratch, the emphasis is on the wheel with spindle spinning given less space later on in the book.
A number of projects are given throughout the book at appropriate points for weaving and knitting, even cross-stitch with your handspun.
Learning to spin takes a smaller section of the book, perhaps a third of the pages, including preparation techniques such as hand-carding, drum-carding, flick-carding, combing. A larger part of the books is given to the fibres and blending them; wool, alpaca, silk, mohair, angora, cotton, a chapter for each. A final chapter is given to novelty yarn techniques, spiral, boucle, knot, beaded etc.
The book is aimed at the novice with all bases covered and Anne Field succeeds in her aim to cover the variety of yarns that you can spin and their uses.
Shiela Dixon, 30 November 2011