Ashford Drum Carder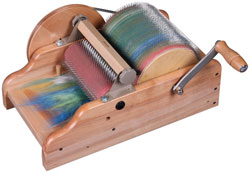 This strong and robust model is assembled and lacquered ready to use. It has two ratios for flexibility and control when carding and blending. Adjustable drum clearance, nylon bearings so it is light and easy to turn. Assembled and lacquered.
Includes Doffer / awl and basic instructions.
Now also includes packer brush and cleaning brush as standard.
Optional accessories (not included): The Ashford Book of Carding by Jo Reeve, flick carder.