Ashford Wide Drum Carder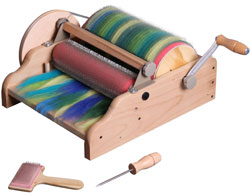 It has the same 72dpi carding cloth and two speeds as the standard drum carder, but the wider drum makes for faster production; making a massive 100g (3.5 oz) batt. It comes with packer brush and cleaning brush included.
Carding width - 30 cm (12ins)
Produces a massive 100gm (3.5oz) batt
Packer brush and cleaning brush included
Assembled and lacquered
Specifications:
Batt size 30cm (12ins)
Makes up to a 100gm (31/2oz) batt
2 speeds - 4:1 and 6:1
Weight only 8.4kg (18.5lbs)
Includes: Cleaning brush, doffer (awl), clamps, built-in adjustable packer brush.
Not currently in stock (can be ordered in quickly) but is Available for hire