The Ashford Book of Carding

Contents
What is carding?
The tools
Fibre properties
Flick carding
Hand carding
Drum carding
Colour theory
Primary Secondary and Tertiary colours
Complementary colours
Analagous colours
Colour variations
Projects
Sampling
I really do like this book; as an instructional book it is comprehensive and it is also inspirational being full of colour and ideas for blending different fibres.
It covers flick carding, hand carding and drum carding, blending different fibre types and colours and lots about colour theory. Even a word at the end about sampling and plying.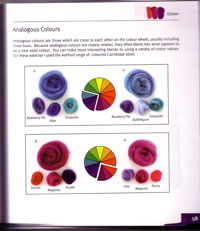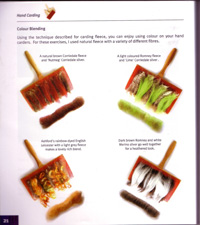 I'm not usually a fan of the patterns included at the end of instructional books. However, the four patterns here are nice projects and well-chosen to put into practice some of the techniques learned earlier in the book.
Watch Shiela demostrate hand carding using hand carders
Shiela Dixon, 30 December 2009

The Ashford Book of Carding - Jo Reeve
A colourful summary of hand carding, drum carding, colour theory and fibre blending. Includes four knitting projects
Read my review of The Ashford Book of Carding
plus postage

NB - UK only.
Next dispatch: lunchtime Tue 1 Dec
---
Getting started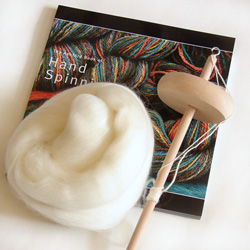 Spinning wheels

Hand Spinning News

Subscribe
Receive it as a free monthly email.