Hand Spinning drop spindle starter kit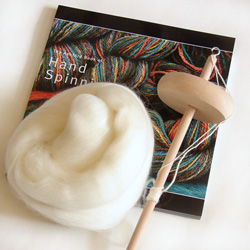 A great but reasonably-priced general-purpose drop spindle for hand spinning. The whorl (top-whorl) is nice and chunky and keeps the spindle spinning for a long time. It has a long spindle (12" long), so a good capacity to store your yarn as you spin or ply it.
Contains:
Ashford student drop spindle
Wool roving ready to tease out and spin, approx 100g altogether (3.5 oz) in random natural or dyed colour(s). Enough to spin 200yds, depending on how thick you spin it.
Copies of The Wheel magazine.
(Optional)Standard hand carders for carding raw fleece or blending fibres.
Separate items: spinning books and other types of drop spindle are also available.
Watch Shiela demonstrate how to use a drop spindle