Mayan Paddle Spinner or Rakestraw spinner - Yew / Oak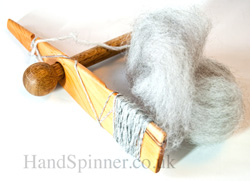 A fun way to spin! It's great for new spinners or children because it uses the 'park and draft' method. Adding twist is achieved by whirling it around like a football rattle.
These tools are featured in Yarnmaker magazine issue 3 (January 2011)
Paddle 7" long (180mm) in yew. Spindle 5" long (130mm) in oak.
Includes very basic leaflet. Search Youtube for instructional videos.
Beautiful-looking spindles which spin beautifully too. The wood is Indian sheesham wood, an old member of the rosewood family.
They weigh 50-60g, whorl 80mm, 10" (250mm) long with a tapered spindle.
Note that being handmade, they may vary a little from the photographs in terms of exact size and weight, wood colour and grain.
Made by a small family firm in India. The 'oily polish' finish is a family formula. It has an exquisite shine and is waterproof.
I include a nest of free fibre with each spinner
£21
Temporarily out of stock
plus postage NB - UK only
Next dispatch: Tue 28 Mar