Top-whorl drop spindles - Rosewood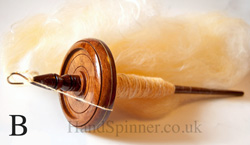 Beautiful-looking spindles which spin beautifully too. The wood is Indian sheesham wood, an old member of the rosewood family.
They weigh 50-60g, whorl 80mm, 10" (250mm) long with a tapered spindle.
Note that being handmade, they may vary a little from the photographs in terms of exact size and weight, wood colour and grain.
Made by a small family firm in India. The 'oily polish' finish is a family formula. It has an exquisite shine and is waterproof.
I include a nest of free fibre with each spindle