Turkish Spindle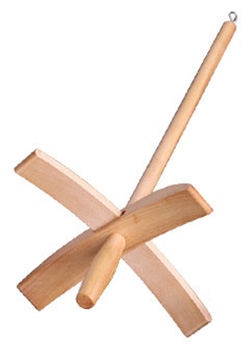 The turkish style drop spindle is fun to use - when you've finished spinning or plying, it slips apart leaving your yarn in a neat ball.
If you make sure that you have access to your starting end, then you can ply from both ends of this ball.
14" (350mm) long. Nice and light but spins well - it weighs in at 1.5 oz (50gm), which is lighter than the Classic or the Student spindles, but not quite as light as the smaller top whorl spindles.
Beautiful-looking spindles which spin beautifully too. The wood is Indian sheesham wood, an old member of the rosewood family.
They weigh 50-60g, whorl 80mm, 10" (250mm) long with a tapered spindle.
Note that being handmade, they may vary a little from the photographs in terms of exact size and weight, wood colour and grain.
Made by a small family firm in India. The 'oily polish' finish is a family formula. It has an exquisite shine and is waterproof.
I include a nest of free fibre with each spindle