Ashford Jumbo Sliding Hook Flyer Kit (Double drive)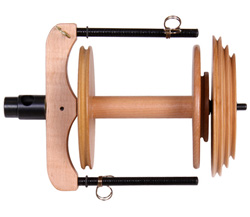 This Jumbo version of the new Ashford Single Drive Sliding Hook Flyer fills your bobbin evenly with the squeeze and slide stainless steel yarn guides. Fits your Ashford Traditional or Traveller spinning wheel. Graphite - fibreglass arms make a light and strong flyer. The four speed pully allows you to spin a wide range of yarns.
Includes: large 19mm(3/4in) orifice bearing. 1 jumbo bobbin. bearing reducer (for fast switching back to your standard flyer), orifice reducer, drive band, brake band, springs.
Includes one bobbin.
Ratios:
Traditional 4.5, 7.5, 9.5, 12.5:1
Traveller 3.5, 6, 7.5, 10:1