Kiwi Jumbo Sliding Hook Flyer Kit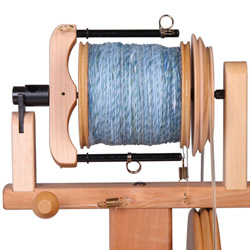 Spin chunky or novelty yarns with the large orifice and bobbins. The kit contains a jumbo sliding hook flyer, one jumbo bobbin, front upright and bearing, new brake band, drive band, orifice reducer bush.
The orifice reducer bush helps you to spin finer yarns while still using your jumbo flyer.
Ratios: 4, 5:1
Orifice 15mm plus 10mm reducer bush
Bobbin capacity 225gm (8ozs)