Ashford standard bobbin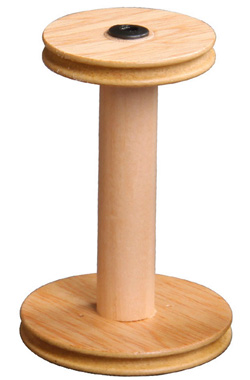 You can never have enough bobbins! Spare bobbin for Ashford wheels or lazy Kates. Natural finish.
This is the original bobbin with one whorl slightly smaller than the other. 115mm (4.5ins) long, large whorl 75mm (3ins), small whorl 60mm (2.25ins). This is the one you need if you have a single-drive Traditional, Traveller, Kiwi 1 or Elizabeth fitted with the multi-hook flyer. Or a Joy 1 that has a multi-hook flyer. If your flyer is the newer 'sliding hook' type, then it will take one of the larger 'sliding-hook flyer bobbins'.
plus postage NB - UK only
Next dispatch: Tue 19 Jun