Ashford Competition (tensioned) Lazy Kate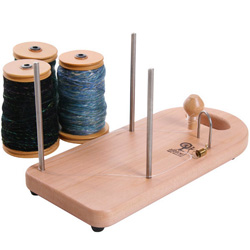 Designed for fast plying, the Competition Lazy Kate was inspired by speed events such as the Back to Back Wool Competition.
Adjustable brake tension and smooth stainless steel yarn guide to prevent your yarn from tangling. Bobbins are quick and easy to change. Convenient carry handle. Four rubber feet prevent slipping or tipping. Stainless steel bobbin pins are removable for storage and transport. Made from beautiful Silver Beech hardwood with a rich lacquer finish.
Takes three bobbins (standard or jumbo, single or double drive bobbins - sold separately).
"fantastic! I've only ever used the built in one on my ashford traveller before, and the new one has made such a difference!" - Sarah