Ashford top-whorl drop spindles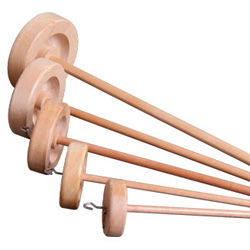 Well balanced. Strong spring wire hook bent to help keep your yarn from arcing out of the hook. Lacquered finish. Long shaft helps to balance the spindle and allow for "down the thigh" propulsion for high speed spinning.
Ashford produce these spindles in a range of sizes from 50mm diameter/17g/0.5oz (very small) to 90mm/80g/2.75oz (quite large)
Watch Shiela demonstrate how to use a drop spindle
Beautiful-looking spindles which spin beautifully too. The wood is Indian sheesham wood, an old member of the rosewood family.
They weigh 50-60g, whorl 80mm, 10" (250mm) long with a tapered spindle.
Note that being handmade, they may vary a little from the photographs in terms of exact size and weight, wood colour and grain.
Made by a small family firm in India. The 'oily polish' finish is a family formula. It has an exquisite shine and is waterproof.
I include a nest of free fibre with each spindle
50mm / 17g :
£15.76

available from stock
70mm / 35g :
£17.20

available from stock
plus postage NB - UK only
Next dispatch: Tue 27 Nov