Spin Control by Amy King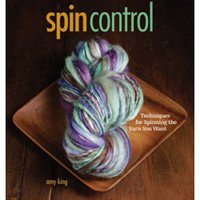 Spin Control by Amy King
Contents:
Be in control of your yarn
Spinning techniques

Know your fibre
Working with your wheel
Measuring success

Let's make some yarns!

Spectacular singles
Two-ply: spinners' yarn
Three (or more) plies
Core spinning and more
Novelty yarns
The blurb says 'for new or experienced spinners' but I think the book assumes that you are already able to treadle your wheel and draft your fibre. From there it takes the 'improving spinner' on a journey to a place where you are in control and able to make your yarn the way that you want it.
Know your worstead from your woollen and be able to decide which is the right one to use, know your top from your roving, whether to pre-draft. Be comfortable and knowledgeable about your wheel.
If you read Amy's blog http://boogieblather.wordpress.com/ you'll have guessed that she won't stop at the conventional. She goes off the beaten path with chapters about core spinning and other novelty techniques.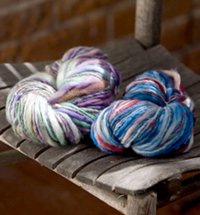 Good photography, in-depth information and inspiring ideas!
paperback, 120 pages. Dimensions: 8 1/2" X 9"
Review: Shiela Dixon, 10 August 2009
Don't just take my word for it: http://twistcollective.com/collection/index.php/blog/38-twist-collective-blog/342-book-review-spin-control
---
Getting started

Spinning wheels

Hand Spinning News

Subscribe
Receive it as a free monthly email.