The Intentional Spinner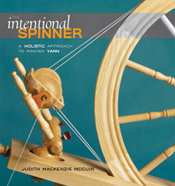 The Intentional Spinner - A Holistic Approach to Making Yarn
by Judith Mackenzie McCuin
For 'Improving' spinners, The Intentional Spinner by Judith Mackenzie McCuin is a must-have.
It's not just a step-by-step technique guide, although the 'Spinning Techniques' section does do step-by-step extremely well. The 'holistic approach' referred to in the subtitle means that it helps you to design and make the perfect yarn for your project by understanding the structure and properties of all of the fibres available to you.
The Intentional Spinner is ordered into two main sections; the nature and science of fibre, and technique. It culminates with four projects of intermediate standard. For each of these, Judith Mackenzie McCuin pulls together everything we've learned and explains the reasoning behind the choice of fibre and spinning method. Intentional and holistic!
At 150 pages, it's not a slim book and packs a huge amount of detailed text, diagrams and tables. It's very well illustrated and is enriched with titbits of historical and cultural information, science and anecdotes which make it a fascinating and absorbing read and also fun to dip into.
paperback, 150 pages, 9" (230mm) x 9" (230mm)
Shiela Dixon, 19 April 2009

Intentional Spinner: A Holistic Approach to Making Yarn - Judith MacKenzie McCuin
Aimed at improvers, a must have: fibres and structure, possibilities, history, techniques, projects.
paperback, 150 pages, 9" (230mm) x 9" (230mm)

Great gift!
plus postage

NB - UK only.
Next dispatch: lunchtime Monday
---
Getting started

Spinning wheels

Hand Spinning News

Subscribe
Receive it as a free monthly email.