Yarnmaker Magazine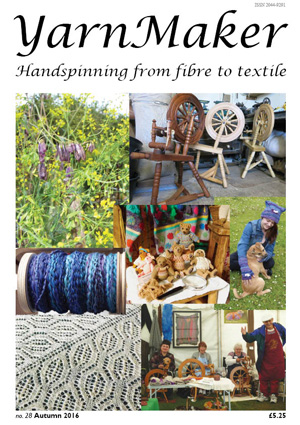 Yarnmaker magazine is a UK magazine for hand spinners.
Each issue has over 40 pages and around 20 articles on topics ranging from sheep breeding to patterns for knitting your handspun, reviews of wheels, spindles and other equipment, history and techniques, letters, competitions, news and events.
It has come out every two months. The most recent issue (number 28) is unfortunately the final issue and is available below. I also have most back issues in stock.
The current issue (number 28) includes:
A Scotch Mule Shawl The Scotch Mule Sheep, Fiona Curtis
Jean's Glove Pattern, Jean Cooper
Spin and Knit for Jean's Gloves and Other Patterns, Carol Leonard
The Spinning Wheels Made by Col. James E Innes, MBE, Lynn Gray Ross
Introducing Natural Dye Extracts, Debbie Tomkies
Woad: if at First You Don't Succeed, Try, Try Again, Patricia Dyson
Spindle Exhibition: celebrating the work of Betty Spence, Ellena Kirk
Spinning with Reflective Yarn, Elizabeth Lovick
Dog Walking Hat and Mitts, Elizabeth Lovick
Dyeing as a By-Product or Making Use of What You Have, Patricia Dyson
Easy to Spin: Spiral Yarn, Ruth Robinson
The Wheels Return to Stanton Guildhouse, Chris Seers
The Gressenhall Spinning Book: part 2, Rose Sheen
Majacraft Aura Spinning Wheel Review, Ruth Robinson
And much more...
Posted in a strong 'do not bend' board-backed envelope so that your Yarnmaker arrives in perfect condition. Back-issues are now reduced and post-free
Yarnmaker magazine issue 28

Yarnmaker magazine is a UK-based magazine for spinners. Each issue is packed with articles on all aspects of spinning such as wheels, spindles and other equipment, art yarn, dyeing, sheep breeding, patterns, as well as letters, directories of guilds and businesses, news and events.
plus postage

NB - UK only.
Next dispatch: Tues 24 Apr

Yarnmaker magazine, backnumbers / back issues
Yarnmaker magazine is a UK-based magazine for spinners.
I have Yarnmaker backnumbers in stock, post-free and now reduced to £3.95