UK Postage during the Christmas period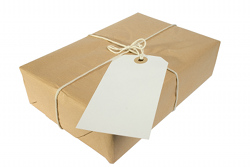 I've always tried to dispatch as quickly as possible (usually within 24 hrs) and always use first class post where possible. I'm sure that I'll be able to continue with that up until Christmas (For larger parcels such as wheels and looms, that does depend on the weather allowing Parcelforce to get their van to my door!)
First class post (small parcels) is usually next-day, but even under normal circumstances there are no guarantees. During the Christmas shopping period, some parcels will be delivered quickly, some will inexplicably take longer than usual, especially if the weather is bad.
First class post is untracked and so when a parcel appears to be delayed, I usually give it a reasonable time before resending. (The parcel is always delayed, very rarely lost, so I pay the return postage when the first one shows up too). For me, that reasonable time is usually ten days, but during Christmas, especially bad weather, when delays are not so rare, I'll have to allow more. Three weeks is still less than the Post Office usually allow before considering the parcel lost.
For first-class parcels, if you have ordered in the three weeks before Christmas then I will consider the parcel delayed rather than lost. I will offer to re-send using special delivery if you are prepared to cover the extra postage costs.
For bigger parcels (wheels and drum carders) Parcelforce tell me that the deadline for the Express 48 service (my default service and included in my prices) is Wed 21 Dec, and Thu 22 Dec for their Express 24 service (an extra £5). But after the problems caused by bad weather in previous years I have to say please don't leave it until the last minute.
During December, Parcelforce drop their 'same day collection' service and so larger items (wheels and drum carders) can only be dispatched the day after I receive the order.
Europe and the rest of the world
With apologies to the rest of the world, I have reluctantly had to stop posting anything overseas.
If you're outside the UK, please don't order, I'll have to return your money.
VAT
I have been registered for vat but as from April 2012 I am no longer registered. Therefore there is no VAT in the prices that you see and there is none to pay.