About me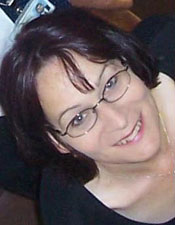 I'm Shiela Dixon, an enthusiastic knitter, spinner and walker.
I've always loved crafts. After a spell with glass engraving I worked for twelve years as a stained glass artist before discovering softer and more forgiving materials.
This website contains a useful range of spinning items; spinning wheels, carders, plying tools, books. Prices are below recommended retail price and most items are in stock and ready to go by first class post (unless I've sold out, and I try to state this by the item). I sometimes dispatch on the same day and almost always within 24 hours.
Next dispatch: Tues 9 Jan
Please note that I don't have the premises to be able to offer browsing, try-before-you-buy or tuition.
email: shiela@handspinner.co.uk

I am a member of the Federation of Small Businesses
Other ways to hook up
---
Testimonials
"Prices are good and I am not getting stung at the last minute for expensive postage. So far so good and excited to play with my purchases." - Johanna
"Delivery was fast, goods well packaged and exactly as ordered. Will use Handspinner again! " - Fiona
"The service was prompt and the quality of goods was excellent." - Phillipa
"Very friendly and courteous service, would certainly use again" - Zoe
"All the items were very reasonably priced, arrived very quiuckly and were well packed." - Ernie
"A great service from start to finish. Excellent advice, swift delivery and safe packing. Perfect !" - Jaine