Looking forward to Summer
Newsletter from handspinner.co.uk for May 2010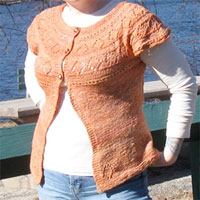 Having been spoiled by a gorgeous April, I guess we're all thinking about projects for Summer. Twist Collective, Knittyspin and Knitting Daily have lots of ideas for Summer spinning / knitting projects. If you enjoy a knit-a-long, then Knittingdaily is inviting you to vote on your favourite of four lovely summer patterns.
For more news, events, inspiration, giveaways and some silliness, read on...
---
Events
Knit Nation Summer Expo 2010
29 - 31 July 2010, Imperial College in South Kensington, London
Learn, Shop, Knit, Spin! The best of independent designers, teachers, retailers, and distributors all in one place. You can see and buy products, learn new skills or improve existing ones, and meet new suppliers.
Imperial College is adjacent to the Victoria & Albert Museum, a stone's throw from the Royal Albert Hall, the Royal Geographical Society and an easy five minute stroll to Kensington Gardens. A perfect summer destination.
Three days of dedicated teaching takes place over the Thursday, Friday, and Saturday and the public Marketplace takes place over Friday and Saturday. You can visit our Shop and sign up for classes and buy Marketplace tickets, including our limited Exclusive Preview tickets for the Thursday night - advance viewing and shopping without the crowds!

Woolfest 2010
Friday 25 and Saturday 26 June 2010. Woolfest is an annual festival celebrating all aspects of natural fibres - their sources, uses and products. Spinning will be well-represented in the trade stands; events include a giant Spin-in and the bookable workshops include 'Spinning for lace knitting' with Galina Khmeleva.
www.wonderwoolwales.co.uk
Spinning, weaving and dyeing in the north Cotswolds since 1900
8 May to Sunday 27 June 2010. This exhibition tells the story of 20th-century textile crafts from Ethel Mairet at Broad Campden in the 1900s, through Mary Osborn at Stanton in the 1970s and 1980s, to craftspeople of the present day. And a chance to try hand-weaving yourself.
Court Barn Museum, North Gate Lodge, Church Street, Chipping Campden GL55 6JE
www.courtbarn.org.uk or phone 01386 841 951
Event poster
---
News from around the web

Sheep to catwalk at Pringle
Scottish firm Pringle's horribly funny 'behind the scenes' video quite rightly insists on calling a sweater a jumper! The narrator takes us on a journey from rain-soaked sheep and goats through to the catwalk, pausing to pick off the wee beasties on the way.

aKNITomy - Knitted bisected head
CraftyHedgehog enjoys taking subjects that some people find squeamish, and working them in safe, comforting materials. She sells patterns, kits and finished objects.
The bisected human head is a needle felted piece incorporating a variety of fibres and a hand knitted brain on a knitted merino background. Other fibers used to create the head were merino, alpaca, silk and tencel.
I've shied away from showing you some of her more grizzly pieces; please follow the link if you have a strong stomach and want to explore those.

British magazine for handspinners
Dorothy Lumb, who you may know from Dot's Fibre to Fabric, has announced Yarnmaker, a much-needed British printed magazine for handspinners.
The magazine will be arriving in the Summer and Dorothy is currently seeking articles, patterns & projects, group and events, suppliers and teachers. You will soon be able to subscribe via the magazine's site and she will post the magazine to readers in most parts of the world. Read more
---
From the blogosphere

Rebellion neckwarmer breaks the rules
Helen has named this made this beautiful ruffle neckwarmer Rebellion, because it breaks all the rules. She has made it from her own handspun art yarn, knit into two-stitch and three-stitch icord using an icord loom home-made from household items.
She describes the response she's had to this post as "overwhelming" and it's no surprise; the finished object is gorgeous and she has gone to so much trouble to give us step-by-step instructions on how you can make one too.

Blogpick: Yarn Art
Southern Cross Fibre has written a short but thought-provoking piece about yarn standing as art in its own right and has rounded up some wonderful pieces by her favourite spinners. Read this blog post.
Blogpick: Pants on Fire
Stephanie Pearl-McPhee, yarnharlot, finishes a jumper. Not the biggest news in the blogoshpere maybe, but in case she's not already on your reading list, her style makes her blog a compulsory read. This entry includes a lovely quote which is the knitter's equivalent of sod's law, "Things only block longer when they're already too long." Read this blog post.
---
News from handspinner.co.uk

Spinning wheel and drum carder hire
You can now hire a spinning wheel or drum carder from me at a reasonable rate. I will be happy to deduct any hire charges you pay from the cost of a brand new one if you decide to buy.
Find out more about drum carder hire and spinning wheel hire
Donate as you buy
I'm looking into a 'donate as you buy' scheme - it won't cost you any more, but if I can get it into place, a proportion of the profits from your purchases (both handknitter and handspinner) will go to a charity close to my heart. Please let me know what you think.
May giveaway
This month's giveaway is a prize draw. All you need to do to enter is introduce a spinner friend to this newsletter. I'll draw a winner at the end of the month and a prize of a £20 voucher will be yours, or your friend's, or will you share it? Choice is yours!
The form is at the bottom of this newsletter. Just fill in the appropriate boxes. Any problems, please contact me.

Spring competition
Thank you so much to everyone who has entered the March / April competition. We now have a fascinating collection of yarns, and a wide variety of interpretations of the original photo.
www.flickr.com/groups/handspinnerspringcomp/pool/
I'm very happy to say that we have a winner and a £40 voucher will shortly be on its way to Alien Ears.
I'm very pleased that Alison Daykin agreed to judge the competition.
Alison, who works professionally as Alison Yule Textiles, is an award-winning textile designer, weaver, spinner, author and teacher with long experience. Her own work fuses contemporary design with traditional fibres and techniques.
She co-authored Creative Spinning. The book demonstrates how you can take inspiration for your spinning fron nature and it inspired this competition. My review of the book here: handspinner.co.uk/creative_spinning_book.html.
She says, "It was a very difficult decision as each yarn entered had its own merits, but it became apparent that Alien Ears' entry was by far the best, almost achieving the look and feel of a daffodil.
"I nearly chose the yarn by Inthesky1 as it was also close to the feel of a daffodil. I loved the blending of picperfic's yarn and the texture of Secret Sheep's. air.ridpath and guzzisue both produced beautifully spun yarns, but acknowledged that the green had overpowered the final yarn when spun. guzzisue's finished shawl showed off her yarn to its best advantage."
Once again, a big thank you from me to everyone who's entered and thank you to Alison. You can find details of her regular monday class and all that she does here: spinningandweaving.weebly.com
A very enjoyable way to learn with Alison is to make a holiday of it. Skylark Holidays provide courses with self-catering or B&B accommodation: www.skylarkholidays.co.uk
You can buy a copy of Creative Spinning directly from Alison or very shortly from handspinner.co.uk
---
New products

Merino / slik fibre blends
I've been blending beautifully fine merino with mulberry silk. 80% wool, 20% silk. More colours soon.
Also new is a merino/cashmere blend. Fine merino well-blended with fluffy and very fine Chinese combed and dehaired cashmere fibre. 80% wool, 20% cashmere.
http://handspinner.co.uk/catalogue_fibre_bundles_blends.html
Weaving yarn

Fine weaving yarn, 100% Mercerised cotton in a range of colours. Approx 1700m / 1859 yds per 100gm / 8.5oz cone. Ne 20/2

Sliding-hook flyers
The squeeze-and-slide stainless steel yarn guides help you to fill that bobbin more evenly.
I now stock all flavours of sliding-hook flyers for Ashford wheels; standard and jumbo, single and double drive. These fit Traditional, Traveller and Elizabeth wheels. The jumbo versions include new larger bearings to allow the larger orfice to fit your wheel. I also have the new 'Freedom Flyer' (pictured), the jumbo flyer for all Joy wheels. It has and enormous 25mm (1in) orifice and hooks and will give you the freedom to spin fancy / art yarn on your Joy spinning wheel.

Tiffany Wild Rose Traveller Spinning Wheel
In making this decorated Traveller I was inspired by our native wild rose, or 'dogrose', and by Tiffany's Dogwood Tiffany lamp. I always thought that the American 'dogwood' and our dogrose were one and the same because on Tiffany's Dogwood lamp, the flowers look remarkably like our wild rose. But apparently they're unrelated. My spinning wheel design is based on this lamp, but I've adapted the design slightly so that it more closely resembles our wild rose.
Read more about my Wild Rose Traveller.

Spin to Knit - the Knitter's guide to making yarn - by Shannon Okey
This is another excellent 'getting started' book, this time aimed at experienced knitters who'd like to knit with their own handspun. Half of the book teaches you to spin and the other half is packed with imaginitive knitting patterns designed with handspun in mind. They're well-chosen to make you want to get your hands on the fibre and get started!
Read my review of Spin to Knit
---

Dear Auntie Shiela
Here I do my best to help slightly fictional spinners / knitters in distress.
In the postbag this month is a letter from a spinner who's struggling to find time for the housework in between her spinning. I do hear such comments from time to time in real life, so I should say that any resemblance between our questioner and any real person living or dead is just a bit of a coincidence. Honest.
Dear Auntie Shiela
I regularly find myself putting off chores like the ironing and making the family's tea while I 'just do a few more rows' or 'fill up this bobbin'.
The dust is really getting quite thick, and I think my husband is starting to eat take-away on his way home from work.
But I won't have so much time to spin if I become a model homemaker.
A: It makes you a dedicated spinner / knitter, and if your projects include things for the hubby and kids, then I think it makes you a great wife and mum.
Let's call it 'balancing your priorities'. And your hobby is a priority that has to be taken into account, especially if it's useful to the family too.
I wouldn't dare suggest that you broach the subject of the kids or hubby helping out with the cleaning and cooking, but maybe making them some things that they appreciate will both avoid any resentment of your spinning and knitting and make them so pleased that they'll want to do something in return, such as picking up a duster or getting something in the oven.
The kids couldn't not love the fish hat
This one might even work for dads too (that's the more macho 'shark hat') . If he hunts or fishes, how about the camouflage hat. If he's more conservative, how about a completely unique knitted tie or fashionable tank-top?
Kind regards, Shiela
---
Coming soon...
More sheepy gifts and cards, books, magazines and more fibre bundles and batts.
As usual, if you know anything spinning-related, please let me know.
Happy spinning!
Shiela
If you're reading this newsletter on the web and would like it delivered to your email inbox every month, just fill in your email address in the box below. If you've reading this in your inbox and would prefer not to receive any more, just email me with 'unsubscribe' in the subject line.
---
Subscribe / introduce a friend
---
If you've enjoyed reading this, another way to share it with your friends is to use these sites:
Hand Spinning News

Receive it as a free monthly email
Carding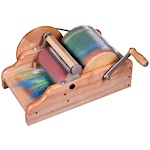 Getting started