New Start
Newsletter from handspinner.co.uk for January 2012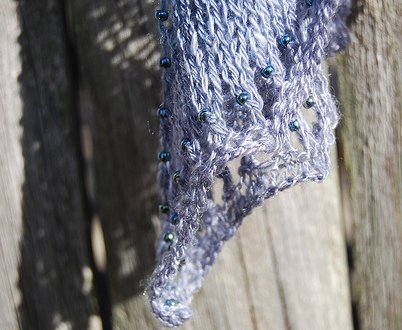 January is a time for making a fresh start, and people's resolutions featured in their blogs at the start of January. My own resolution is to try and make my number of finished projects outweigh my number of new things started and I'm not alone - along with using stashed yarn, this seems to be the most popular theme in other people's resolutions too.
(I'm doing badly so far, by the way, but then as I've just stated, January is a time for new starts.)
So on with this month's digest of spinning-related news, views and amusement.
Contents
---
News and articles from around the web

Spinning cotton, free eBook
Have you spun cotton? Did you know that it grows in natural colours as well as white?
Gisela Evitt says that with practice you will find spinning cotton "relaxing and intoxicating"
This free eBook from SpinningDaily gives us some history, some tips for spinning the very short fibre with some patterns.
http://e1.interweave.com/dm?id=1719042411574A9788E031401D1EB58C61117C9B805475E6

KnittySpin magazine, Winter issue
Articles include Fiber Fiesta, in which spinners evaluate various fibres, and fractal spinning, in which Alexandra Tinsley discusses ways to divide up dyed fibre for spinning and plying.
There are four spin/knit patterns including the fabulous Hedgehog hat and neckwarmer (pictured)
http://www.knitty.com/ISSUEwbis11/KScontentindex.php

Having a ball
You can use an expensive crank-handle ball-winder or a nosteppine to make a neat centre-pull ball, but I smiled as I read this article because it's just how my grandmother used to wind her balls and how my Mum still does.
No tools needed other than your hands (and of course the outstretched hands of a willing partner) and the result is a very neat spherical ball.
http://blog.lionbrand.com/2011/08/10/how-to-make-a-ball-of-yarn/

Recycled into yarn
I have featured projects before that have been made from unusual materials spun into yarn such as VHS tape or plastic bags. Now there's a website dedicated to this 'upcycling' into yarn.
It contains lots of information including tutorials, free patterns, photo gallery and a blog.
Thanks to the knitty professors for highlighting this site. Image is Rag Doily Rug from Coco Knits

Robin Andreae, needle felting artist
Robin Andreae's needle felted animals and birds are incredibly realistic.
She uses her art to make a difference; she sells her work on eBay and donates 20% to animal charities.
Her own blog is at http://needlefeltedart.blogspot.com/ and is well worth a good browse; she's made so many beautiful creatures.
http://felting.craftgossip.com/2009/11/23/robin-andreae-wildlife-felting-artist/
In sheep's clothing
Thank you to everyone who wrote back to me during advent, and who wrote lovely things with their prize draw entry. Without a doubt, the advent calendar email which provoked the most feedback / biggest response was the old film about spinning on Sheltland, which shows the fascinating Rooing process.
It's often said that sheep don't moult and need shearing. But on my walks I've seen sheep with fleece dropping off of its own accord, and here is the explanation. Shetland sheep (and I guess some others?) naturally lose their wool (by forming a break in the fibre). Pulling off and collecting this wool is called rooing.
Thank you very much to the KnittyBlog for highlighting this amazing film from the Shetland Islands in 1932 which shows not only the rooing process, but some spinning and knitting as well.
Watch the video at http://ssa.nls.uk/film.cfm?fid=1129
---
From the blogosphere

Scrimshaw swifts
To fill their downtime, whalers used to carve from whalebone. The craft is known as scrimshaw and a swift was a popular item to make.
These ivory-like items are now highly collectible. Thanks once again to the knitty professors for this fascinating article which contains more information and photos.
http://knittyprofessors.blogspot.com/2011/12/fiber-facts-sort-of-scrimshaw-swift.html?m=1

Yakkety yak
Yak is a versatile animal and essential to those living in the cold and inhospitable Himalayas.
In this blog post Kathleen of Knitting Daily discusses yak fibre, includes a part of an article from Carol Huebscher Rhoades and an accompanying lace pattern
http://e1.interweave.com/dm?id=1719042411574A97890CF2933FF71467AD0B43E0AE847CC5
Buy yak fibre:
http://handspinner.co.uk/yak-fibre-spinning.html

Blogpick: I get my glory in the desert rain
Christine says that this will be the most favourite shawl that she'll ever knit and it's certainly one of the loveliest that I've seen.
It took months to spin and knit, with some labour-intensive bead work at the border.
Click through to see this one, the gorgeous skein of her handspun merino/tencel alone is worth a visit.
http://needleinmyvein.blogspot.com/2011/12/i-get-my-glory-in-desert-rain.html

Freeing a gunked-up wheel
Shearer's Girl Lydia Hill had started to find her Ashford Traditional a bit sluggish and she describes here the process of splaying its wheel supports to access the crank and clean out the vegetable oil gunk. She resolves to use spinning wheel oil from now on.
Lydia also has articles in Yarnmaker magazine numbers 6 and 7 entitled 'Dirt, Sweat and Grunting' in which she spares us none of the very earthy details of the shearing business.
http://talesfromthesheepshed.blogspot.com/2011/11/cleaning-my-ashford-traditional.html

Blogpick: Cashmere goats
What's a cashmere goat like? "A hill sheep with brains" is devonfinefibres' answer.
This lovely post tells us where they're from, the rigorous testing that the fibres are subject to, what they like to eat and that they have character.
Follow the link for a good read and some very cute pictures of the goats responsible for this very fine fibre.
http://devonfinefibres.wordpress.com/2011/08/12/cashmere-goats/

Handspun Volna scarf
thing4string finished this gorgeous Volna scarf in December. The wave effect is made with short rows.
The yarn is her own handspun, the fibre is a merino/silk mix from Fiber Optic, plied 2-ply.
photos of the original fibre and yarn are here:
http://www.flickr.com/photos/thing4string/5596244628/in/set-72157625732086524/
It's a shame that I can't find any more written details, I would like to read about how she split the original fibre to achieve the graduation. I would have expected navajo ply to keep the colours together but she says two-ply.
http://www.flickr.com/photos/thing4string/6467712723/in/photostream/

Space dyeing yarn tutorials
ChemKnits has been running a series of Youtube tutorials about space dyeing, showing some of the effects that you can achieve with dyes in your own kitchen.
The tutorial at the link below is about using a singe colour but follow the links for more effects using more colours.
http://www.chemknits.com/2011/11/one-pot-variation-of-single-color.html
---
News and articles from handspinner.co.uk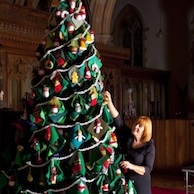 Advent calendar prize draw
Thank you to everyone who wrote back to me during advent, and who wrote lovely things with their prize draw entry. I'm really sorry if I didn't write back to you personally, but the very many messages and feedback were very much appreciated.
The message (as I'm sure everyone spotted very early on) was 'eat, drink and be merry' and I certainly hope that you did.
There were loads of entries, thank you very much to all, and the one picked by the random number generator is Nicky M, who's happy and has a parcel on its way.
January's offer?
I don't have a juicy offer for January, largely, to be frank, because I am short of ideas (any thoughts welcome - let me know) but I will roll the budget over to February's newsletter.

What's new?
All books from Ashford have escaped the annual price increase and remain the same in 2012. Plus they have added two new books to their range.
The Ashford Book - Learn to Spin by Anne Field is a heavyweight at 200 pages but feels friendly and accessible with lots of illustrations and inset boxes.
http://handspinner.co.uk/ashford_book_learn_to_spin.html
The Ashford Book of Weaving Patterns from 4 to 8 shafts by Elsa Krogh is a long awaited book of patterns for 4 and 8 shaft weaving. It is a much more substantial book than Elsa Krogh's earlier book of patterns for 8-shaft weaving and has good colour illustrations throughout.
http://handspinner.co.uk/ashford_book_weaving_patterns.html
---
Events 2012
Wonderwool Wales
28 & 29 April 2012, Royal Welsh Showground
A little bit later than last year. Promoting wool and natural fibre production and its use.
Exhibitors and Trade Stands covering all aspects of felting, knitting, weaving, spinning, crochet and textile art with raw materials, equipment, books and finished products for sale. Competitions and a range of workshops tba.
A list of accommodation And camping in the surrounding area is available on the Wonderwool website.
Woolfest
Friday 22 and Saturday 23 June, Cockermouth, Cumbria
A celebration of natural fibres, especially all aspects of wool, wool products and wool crafts.
From fleecy animals and rare breeds, through fleece, tops, craft equipment and materials, to finished clothing, accessories and unique hand-crafted woollen goods.
Also workshops and masterclasses.
Fibre East

14 & 15 July 2012, Thurleigh, Bedfordshire
It's great to see that the Fibre East festival will be held again in 2012 following the success of the first one last year. It gives those in the Eastern, Midlands and Southern Regions an opportunity to join in an event which aims to encourage and promote natural fibres.
Fibre-East has its own Ravelry group: http://www.ravelry.com/groups/fibre-east-2011 and Twitter stream: http://twitter.com/FibreEast (tweets for the 2012 event yet to appear)
http://www.fibre-east.co.uk/ (New website under construction)
---
Courses and tuition
Please let me know if you are or you know a tutor with a calendar of events.
Spinning and weaving holidays
If the listing below does not display properly, please view it on the web at http://handspinner.co.uk/links.html
with Skylark holidays and Alison Daykin. Alison also has a less formal 'Monday night group': spinningandweaving.weebly.com
---
As usual, if you know anything spinning-related, please let me know.
Happy spinning and don't be a stranger!
Shiela
If you're reading this newsletter on the web and would like it delivered to your email inbox every month, just fill in your email address in the box somewhere up there on the right. If you've reading this in your inbox and would prefer not to receive any more, just use the Mailchimp 'unsubscribe' link at the foot of the email.
---
Previous issues of this newsletter:
---
If you've enjoyed reading this, another way to share it with your friends is to use these sites:
Hand Spinning News

Receive it as a free monthly email
Carding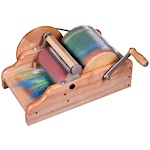 Getting started