Spring blossoms
Newsletter from handspinner.co.uk for March 2011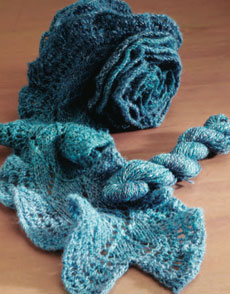 Spring is now here, or very nearly here depending on when you're reading this and Easter is just around the corner.
Since the last newsletter we've had Valentine's day and pancake day and I hope both of those were enjoyable. Snowdrops are now giving way to colourful crocuses and daffodils.
Don't forget that the clocks move forward one hour on Sunday 27 March 1am GMT and becomes 2am BST.
So without further ado, here is the latest distillation of spinning news, reviews, blogs and siliness.
Contents
---
News from around the web

Weaving bowls from metal wire
These bowls and bangles are as fascinating as the stories behind them. Gold, silver, copper, brass and shakudo wire are being woven in African communities into beautiful and useful artefacts, using techniques which connect with the past.
This exhibition is in South Africa but the web page contains images and some absorbing videos.
I've seen metal wire used for knitted jewellery but has anyone seen or tried weaving with it?
Read more and watch the videos

Postage stamp made from handspun cloth
In order to attract the interest the Internet generation in postage stamps, India post is selling a novel stamp - its first one made from a material other than paper.
It has gone for Khadi, or handspun / woven cloth. The stamp features Mahatma Gandhi (pictured) and a charkha. Gandhi advocated the use of the handspun cloth.
The stamp has turned out to be the most sought-after at the World Philatelic Exhibition when it opened on 12 Feb.

Handspun Gallery of Helix Scarves
Last year, Spin Off magazine invited readers to make Stephenie Gaustad's Helix Scarf using their own handspun. The result is a marvellous variety of scarves which were featured in the magazine.
Fortunately, they've made the gallery available as a pdf via spinningdaily.com. It contains 25 beautiful versions, with detailed notes about how each yarn was spun and patterns for some of the readers' own variations. The original Helix Scarf pattern is given on page two.
You can download the gallery for free (you may have to register for free with spinningdaily.com if you haven't done it before).
A reminder that a future project is a gallery of readers' handspun neckties to appear in the Autumn 2011 issue. The closing date for submissions of those is Monday May 2, 2011. You can download the entry form
Get blue at home: do it yourself indigo
In this article, Michele Wipplinger shares her indigo recipe and tips.
Try her indigo recipe at home with a tie-dye project – or with a simple overdye on a pair of much loved blue jeans
A reminder that a future project is a gallery of readers' handspun neckties to appear in the Autumn 2011 issue. The closing date for submissions of those is Monday May 2, 2011. You can download the entry form

Loom-inspired silk chair
This chair was designed and made by Asa Karner of Alvi design. It uses environmnetally-friendly materials and is inspired by weaving looms. The silk thread makes the chair look light and airy, gives the sides and back intriguing lines and casts interesting shadows.
Explore the website for more fun and original furniture ideas.
---
From the blogosphere

Blogpick: Lambing at Patchwork Farm
The 'aaaaaahhh' pictures of lambing have started appearing. These beautiful photos of Jacob ewes lambing are from Patchwork Farm.

Blogpick: Interview: Tricia Hunt of Spinning Wheel Studio
In this long but absorbing post, kewpiedoll99 of Baba's Fiber Dyeing Workshop interviews Tricia Hunt of Spinning Wheel Studio. We learn about the dyes and techniques that she uses, wht motivates and inspires her, we see her studio and find out what she finds satisfying and irritating.

Blogpick: What I've noticed about marling
Marling is the barber-pole effect you can achieve with high-contrast fibres, which gives a 'flecked' effect when knitted.
In this post, Knitty's Jillian says that she's not keen on the effect, but experiments with marling different weights of yarn and reports the results

Blogpick: The Acadian Wheel Spins!!
knitsnthings has been restoring some very old wheels and writing about them on her blog. This is a particularly nice post, in which she describes making new leather bearings and shares lots of pictures of this beautiful old wheel, which seems to spin fine with a borrowed flyer.

Blogpick: Hubbub of hearts
In honour of Valentine's Day, Eros was yarnbombed with a of fluffy hearts, figleafed figures and a knitted William and Kate.

Blogpick: Dyeing Squidoo Orange
If you've read about using Kool-Aid for dyeing, you'll know it's a soft drink mix with strong colour. Rebecca of Chemknits likes the smell (not everyone seems to) but this time writes a tutorial about using food colouring instead.

Artist: Pluckyfluff
Lexi Boeger travels the world teaching spinning but is seeking funding for a 'destination yarn-making venue' in California. Her yarn is big and flamoyant, techniques are varied and the colours beautiful. I think Art yarn is like Marmite, you either spin fine and even, or chunky and capricious. Mine is usually the former, but I love pluckyfluff yarn.

What is "energized yarn"?
We're really talking unplied singles here. Knitting with singles is often dismissed because it doesn't have the strength of plied yarn and because it can bias (although I've knitted with singles which have been 'set' and didn't bias at all).
In this blog, Kathryn Alexander talks about using that twist energy as an effect in the knitted piece.
---
News and articles from handspinner.co.uk
We have a winner!
Thank you to everyone who entered February's prize draw. The answers and suggestions are very helpful.
It was very good to see a name come out of the hat (actually random number generator). Our winner is Sarah (slc25 on Ravelry) and her prize is on its way to her.
March / April giveaway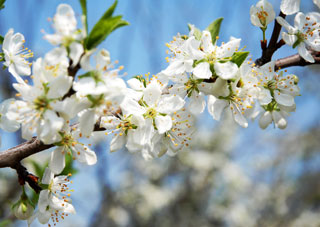 I enjoyed last year's spring competition so much, and the resulting gallery of photos is so good that I'd like to do the same again.
I've found this beautiful seasonal photograph of cherry blossom and I'm inviting you to make some yarn inspired by the photo. As it'll be more work (but hopefully more fun) than other competitions I'm extending this one through March and April, and doubling the prize.
It's a freestyle event - do whatever you like, dye the fibre, mix bought dyed or natural fibre, use animal, vegetable or synthetic, straight or funky, whatever you like. Have photos of your work ready by the end of April.
Entries will be visible on Flickr and handspinner and if you win, as chosen by an independent yarnmistress, you will receive a £40 gift voucher to spend on or put towards anything you like at handspinner.co.uk
(I'll be taking part, but will obviously be exempt from the prize!)
Visit http://www.flickr.com/groups/1599384@N25/ to access a bigger version of the photo and to post your entry. Post as many photos as you like, but please only one type of yarn per spinner.

Yarnmaker, issue 4 (March 2011)
Issue four (March 2011) of Yarnmaker is now available, and once again it's packed with articles, reviews, history, contacts and events.
I stock Yarnmaker for the cover price of £4.90 with free postage.

Selvedge magazine, March/April 2011 issue (number 39)
Selvedge magazine is a special and collectable magazine, covering interior design and contemorary textile art.
A globalisation/localisation issue which compares the recent technological revolution with the industrial revolution and studies the opportunities that the web offers to textile makers.
Read more about Selvedge magazine and preview this issue.
I also have Selvedge backnumbers 33, 34, 35, 36, 37 and 38 in stock
---
Events 2011 (get 'em in your diary now)
Wonderwool Wales
9 & 10 April 2011, Royal Welsh Showground
Promoting wool and natural fibre production and its use.
Exhibitors and Trade Stands covering all aspects of felting, knitting, weaving, spinning, crochet and textile art with raw materials, equipment, books and finished products for sale. Competitions and a range of workshops tba.
Camping facilities are available on site and a list of accommodation in the surrounding area is available on the Wonderwool website.
Woolfest
24 & 25 June 2011, Cockermouth, Cumbria
A celebration of natural fibres, especially all aspects of wool, wool products and wool crafts.
From fleecy animals and rare breeds, through fleece, tops, craft equipment and materials, to finished clothing, accessories and unique hand-crafted woollen goods.
Also workshops and masterclasses.
Fibre East

23 & 24 July 2011, Thurleigh, Bedfordshire
Fibre East is a new festival, giving those in the Eastern, Midlands and Southern Regions an opportunity to join in an event which aims to encourage and promote natural fibres. A 'Sleeping Beauty'-style Great Wheel, unusual Brinkley looms, African fair trade buttons, a spinning wheel surgery and a host of companies supplying wools and fibres, yarns and equipment for knitters, spinners, and weavers will be among the attractions.
Fibre-East has its own Ravelry group: http://www.ravelry.com/groups/fibre-east-2011 and Twitter stream: http://twitter.com/FibreEast
FibreFest
20 & 21 August 2011, Bicton College, Nr. Exeter, Devon
There will be something here to interest all those fascinated by fibre, with as wide a range of activities as possible. Trade Stands offering yarns, braids and cloth plus a full range of supporting craft equipment. Get acquainted with some of our fibre animals.
Tutors will be holding inspirational in-depth Workshops, taster sessions and Seminars. Additional features include an Exhibition by Bicton's Fibre Craft Students..
British Wool Weekend
3 & 4 September 2011, Great Yorkshire Showground, Harrogate.
More information soon.
---
As usual, if you know anything spinning-related, please let me know.
Happy spinning!
Shiela
If you're reading this newsletter on the web and would like it delivered to your email inbox every month, just fill in your email address in the box somewhere up there on the right. If you've reading this in your inbox and would prefer not to receive any more, just use the Mailchimp 'unsubscribe' link at the foot of the email.
---
Previous issues of this newsletter:
---
If you've enjoyed reading this, another way to share it with your friends is to use these sites:
Fibre

A range of fibre from wool to exotic and luxury fibre for spinning, dyeing, felting: wool, silk, alpaca, cashmere, mohair, camel, yak and angora ready to spin. Also raw fleece and colour bundles and original mixes
Spinning wheels

A range of Ashford Spinning Wheels, either delivered quickly to your door, or assembled and finished for free. Also my hand painted spinning wheels. I usually have some second hand spinning wheels too.
Getting started

Hand / drop spindles, Starter kits, How to... articles and videos, books, starter fibre bundle
Magazines and cards

Why not add one or two to your order? These cards, hand made by Jules of 'Always with a Heart' feature a textured sheep. Perfect for your friends or for the spinner / knitter in your life. I now stock Selvedge magazine and Yarnmaker magazine.