Shearing time
Newsletter from handspinner.co.uk for June 2011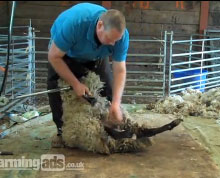 Hedgerows are still very colourful with wild blooms and June is shearing month. Sheep in fields are looking very shaggy one day and thin and freshly-shorn the next.
Fleecy animals and shearing demonstrations will be on display at the forthcoming festivals: the popular Woolfest is later this month but if you're in the East or South-East then I have an update about Fibre East which is taking place in July.
This month's subscriber offer is a very worthwhile one, and as usual I've compiled a month's worth of spinning news, freebies, reviews, blogs and siliness.
Contents
---
News from around the web

Creating Colors: Project Spectrum 2011
Project Spectrum is an opportunity to celebrate or study a different colour or colour group every month. Focussing on 'back to basics', this month Lolly continues her look at the 'additive' primaries with green for the month of June.
This is my contribution. This month she's set us a challenge to capture some greens in your neighbourhood. I took this photo on Saturday on a circular walk starting from home. Being in the middle of The National Forest, there's lots of young forest around, including these poplars just beyond Smisby. I've made this picture available in various sizes for desktop / wallpaper at http://uk-walks.info/desktop-wallpaper.html
Check out the project's Flickr group for loads and loads of inspiration. If you're on Flickr, it's easy to join the group and add your own contribution.
There are also Facebook and Ravelry groups for chat and more information.
Project Spectrum Flickr photo pool
Project Spectrum Facebook group
Ravelry group

5 fashion-forward fibres
Did you know that stinging nettle fibre is stronger than cotton and finer than linen fibre? Or that pineapple fibre is lightweight and soft, ivory coloured and naturally glossy?
This fascinating article lists several eco-friendly fibres recently used by fashion brands.

Sheep on house roof in Pontycymmer escapes unhurt
This sheep managed to find its way onto a roof in Nant-Yr-Ychain Terrace in Pontycymmer near Bridgend. Firemen tried to rescue it but after 40 minutes it jumped down to the ground unhurt via an extension.
Read the full story from the BBC.
Fibre East going 'Great Guns'

The first Fibre East, to be held on 23 & 24 July 2011 at Thurleigh, Bedfordshire, looks like being a success, with over 50 exhibitors booked in. Attractions include a stuffing station for 2012 Olympics cushions, a 'back to back' challenge, a sheep shearing show, exhibitors covering fleece to fabric; buying a fleece and having it processsed, weaving and dyeing, handspun and hand dyed yarns. A spinning wheel surgery, displays by guilds and unusual looms and fibre-craft equipment.
Fibre-East has its own Ravelry group: http://www.ravelry.com/groups/fibre-east-2011 and Twitter stream: http://twitter.com/FibreEast

Drop Spindle Spinning
If you're a knitter or just curious about spinning, then this free eBook is for you!
It contains excerpts from well-established books from Lee Raven, Maggie Casey, Amy Clarke Moore and others. You can learn how to make a spindle for yourself and spin & ply your first yarn!
The free download requires you to give your email address to SpinningDaily, but their regular emails are often interesting and worthwhile.
---
From the blogosphere

Blogpick: Shearing First Sheep of the Season
shearersgirl has shorn her first sheep of the season and written about the experience with pictures.
Read more
And she has posted some videos here.

Blogpick: New best friend
Does your wheel have a name? This post is a little bit cryptic, but I gather that allabitrandom is thinking of naming her new wheel after a British wild flower. It's a great excuse to post some photos of some lovely seasonal blooms.
She has also achieved a lovely colour with some logwood dye and is getting to grips with a lace chart. The result will be a beautiful shawl - see it in progress.

Blogpick: Calais shawl made from spindle spun singles
Sue of Knit Nottingham is a more seasoned shawl knitter and has made this beautiful one from spindle-spun and dyed-in-the-cop singles.
The fibre was oddments reclaimed from demos and lessons over the last few months.
This post shows the dyeing process step-by-step.
Sue says, "I love the way the colours and the fibres change from white Merino round the neck area through to Falkland and finally Shetland for the bind off."
More pictures of the finished shawl are here on Flickr

Decorated Drop Spindles
Most Ashford products often come in 'natural finish' which is a nice way to say that the wood needs finishing somehow; stain, oil, wax, varnish, the choice is yours. Some things come lacquered or have a lacquered option.
But the great thing about the natural finish is that it gives you the chance to get your creative mojo on.
My decorated spindles and decorated spinning wheels

Blogpick: Ancient woolly sock
Kate of Needled writes as beautifully as she takes photographs. You may know that I like a walk and I have enjoyed a little bit of Hadrian's Wall.
This post, which features some gorgeous photos and eulogises about the oldest known woolly sock, made me want to drive up there right away, and I'm sure it will have the same effect on you.

Glow in the dark spindle
It seems that you can improvise a spindle from almost anything, but this is genius. The glow-in-the-dark spindle was made by Guzzisue of Travel Fibre and Thread
She says "silly people gave a glow stick to a spinner on saturday night".
What's the most creative improvised spindle you've seen?
---
News and articles from handspinner.co.uk

June offer
Once again an offer that everyone can access, and I do get good feedback from spinners who try the more exotic fibres I stock. So I'll stick with the theme.
Free for the asking, unti mid-July I'll make up a 'taster' pack containing 25g of each of camel, mohair, yak, angora, alpaca and cashmere. (worth over £10)
Just email me at shiela@handspinner.co.uk - enter 'June Subscriber Offer' as the subject, and give your name and delivery address in the email.
One request per subscriber, please. If you'd like more then all fibres are here and I'm sure you'll find them good value.
New Items

New extra wide drum carder
It gives me pleasure to bring you news of a new 30cm / 12 ins wide drum carder. It has the same 72dpi carding cloth and two speeds as the standard drum carder, but the wider drum makes for faster production; making a massive 100g (3.5 oz) batt. It comes with packer brush and cleaning brush included.
Now in stock.
More about the Ashford Wide Carder

Yarnmaker, issue 5 (May 2011)
Issue five (May 2011) of Yarnmaker is now out and in stock here after an unexpected delay, and once again it's as packed as ever with articles, reviews, history, contacts and events.
I stock Yarnmaker for the cover price of £4.90 with free postage.

In Sheep's Clothing
Not a new book, but with wool festivals ahead of us it might be useful to highlight it. Do you know your Romney from your Blueface or Lincoln Longwool and the properties of each fleece?
An A-Z of sheep breeds and the characteristics of their wool. Also expert advice on preparation, blending, carding, combing and plying.
---
Events 2011 (get 'em in your diary now)
Woolfest
24 & 25 June 2011, Cockermouth, Cumbria
A celebration of natural fibres, especially all aspects of wool, wool products and wool crafts.
From fleecy animals and rare breeds, through fleece, tops, craft equipment and materials, to finished clothing, accessories and unique hand-crafted woollen goods.
Also workshops and masterclasses.
Fibre East

23 & 24 July 2011, Thurleigh, Bedfordshire
Fibre East is a new festival, giving those in the Eastern, Midlands and Southern Regions an opportunity to join in an event which aims to encourage and promote natural fibres.
Attractions include a stuffing station for 2012 Olympics cushions, a 'back to back' challenge, a sheep shearing show, exhibitors covering fleece to fabric; buying a fleece and having it processsed, weaving and dyeing, handspun and hand dyed yarns. A spinning wheel surgery, displays by guilds and unusual looms and fibre-craft equipment.
Fibre-East has its own Ravelry group: http://www.ravelry.com/groups/fibre-east-2011 and Twitter stream: http://twitter.com/FibreEast
FibreFest
20 & 21 August 2011, Bicton College, Nr. Exeter, Devon
There will be something here to interest all those fascinated by fibre, with as wide a range of activities as possible. Trade Stands offering yarns, braids and cloth plus a full range of supporting craft equipment. Get acquainted with some of our fibre animals.
Tutors will be holding inspirational in-depth Workshops, taster sessions and Seminars. Additional features include an Exhibition by Bicton's Fibre Craft Students..
British Wool Weekend
3 & 4 September 2011, Great Yorkshire Showground, Harrogate.
More information soon.
---
Courses and tuition
Please let me know if you are or you know a tutor with a calendar of events.
---

Dear Auntie Shiela
Here I do my best to help slightly fictional spinners / knitters in distress. This month a regular correspondent is the victim of an unfortunate misunderstanding
Dear Shiela
Help! I've received a fine from my local council.
I recycle - I'm very particular about it. Which is why I had to go out and have a 'little word' with the passers-by who I saw dropping crisp packets into my brown bin.
It's annoying enough when people drop litter into someone's wheelie bin, but I suppose I'd rather see them do that than drop it on the pavement.
But this bin is brown, and it's full of my weeds and prunings. It's OBVIOUSLY my 'brown bin', for green waste, which is what I explained to them.
I guess I should have remembered to remove those wrappers Shiela but isn't it unfair that a few days later I was on the receiving end of a penalty for putting the wrong things into my bin and the same lecture I'd given the kids ?!
Ada
A: This does seem very unfair. Write to the council and explain that you're onside and have done your best to educate the offenders.

Your letter made me think of a few things I'd seen on the theme of recycling. You won't use up all your recyclables, but how about thinking up some clever ways to recycle or 'upcycle' some waste?
Recycled Silk Scarf, an eco-friendly project that uses up old clothing, the bag made from recycled VCR tape or the hat made with drinks cans! (yes really)
Shiela
---
As usual, if you know anything spinning-related, please let me know.
Happy spinning!
Shiela
If you're reading this newsletter on the web and would like it delivered to your email inbox every month, just fill in your email address in the box somewhere up there on the right. If you've reading this in your inbox and would prefer not to receive any more, just use the Mailchimp 'unsubscribe' link at the foot of the email.
---
Previous issues of this newsletter:
---
If you've enjoyed reading this, another way to share it with your friends is to use these sites:
Fibre

A range of fibre from wool to exotic and luxury fibre for spinning, dyeing, felting: wool, silk, alpaca, cashmere, mohair, camel, yak and angora ready to spin. Also raw fleece and colour bundles and original mixes
Spinning wheels

A range of Ashford Spinning Wheels, either delivered quickly to your door, or assembled and finished for free. Also my hand painted spinning wheels. I usually have some second hand spinning wheels too.
Getting started

Hand / drop spindles, Starter kits, How to... articles and videos, books, starter fibre bundle
Magazines and cards

Why not add one or two to your order? These cards, hand made by Jules of 'Always with a Heart' feature a textured sheep. Perfect for your friends or for the spinner / knitter in your life. I now stock Selvedge magazine and Yarnmaker magazine.