Connections with the past
Newsletter from handspinner.co.uk for September 2011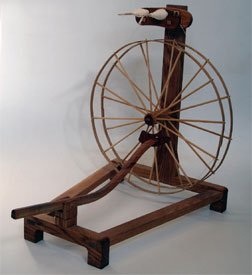 With the youngsters back at school, the evenings geting noticeably shorter and trees looking more colourful, have your thoughts been turning back to your hobbies?
This month we're still thinking about the past; spinning in heraldry, going back to the origins of our spinning wheels and trying to draw a line under the Luddite question.
Getting right up-to-date, Wool Week will be over by the time you read this, but I've rounded up some of the clever, impressive and amusing things that have been going on to promote our wonderful raw material. If you still need cheering up, the Project Spectrum colour this month is yellow.
On with this month's digest of spinning-related news, views and amusement.
Contents
---
News from around the web
Wool Week UK - 5-11 September 2011
Wool Week was started last year by the Campaign for Wool at a time when sheep farmers were being offered less for a fleece than the cost of the shearing. Happily the trend has already been reversed and farmers now receive enough from the wool to pay the shearer with some left over.
There is a move in fashion and retail towards sustainable fibres. What may help to save wool is the move to promote natural fibres as a luxury fibre. Vivienne Westwood has commented "people will not want manmade fibres anymore."

Wool Modern the exhibition is open for free beyond Wool Week, from 8 - 29 September at La Galleria, Pall Mall, London, SW1Y. Their Royal Highnesses The Prince of Wales and The Duchess of Cornwall opened the exhibition
Wool Modern at La Galleria, Pall Mall

The Somerset Guild of Weavers, Spinners and Dyers were involved with the Glastonbury Wool Festival, which coincided with the start of Wool Week. Events included the drive of a flock of sheep and alpaca down the High Street by Freemen of Glastonbury, Alan Gloak, Ian Tucker and John Brunsdon. At one point the flock made a surprise visit into Boots the Chemist. There were also Sheep dog trials and stalls selling fleeces, fibres and accessories with the opportunity for members of the public to have a go at weaving and spinning.
The Glastonbury Wool Festival 2011
Harvey Nichols where you can see an installation of wool handbags by Anya Hindmarch and Christian Louboutin amongst others. The bags are hitting eBay for auction between 20 - 30 September with all proceeds being donated to the Prince's Countryside Fund
The Launch of Wool Week at Harvey Nichols

Turningn the sheep into a co-ordinated fashion accessory, Harrods have made this lovely sheepish video which must have been so much fun to make. Follow the links on the Campaign's Youtube channel for more Wool Week videos.
The "Sheepish" - Harrods' video for Wool Modern & Campaign for Wool

Creating Colors: Project Spectrum 2011
Project Spectrum is an opportunity to celebrate or study a different colour or colour group every month.
Focussing on 'back to basics', this month Lolly continues her look at the 'additive' primaries and for September, just when we need cheering up, the colour for study is yellow.
Check out the project's Flickr group for a growing pool of yellowness. If you're on Flickr, it's easy to join the group and add your own contribution.
There are also Facebook and Ravelry groups for chat and more information.
Project Spectrum Flickr photo pool
Project Spectrum Facebook group
Ravelry group

Heraldic symbols
What would you have on your own coat of arms?
I came across this poster which features heraldic symbols. The very first one is a wool card - I assume it's the same kind of thing that we use today. I'm not sure whether a Jersey comb is also textile-related? It looks like a hackle, but I may be on the wrong track there because it looks like an upside-down tillage rake (agricultural I assume) or a preene without a handle (I have no idea).
reassuringly obvious is the hank of silk.
(If I ever meet anything that looks like that heraldic 'badger' I won't stop to ask what it really is.)
---
From the blogosphere

Wool combing
Sneaking in one of my own posts again, I've been bitten by the combing bug (and bitten by a comb at one point) using some of the zwartbles fleece I've been selling this year.
Combing separates the longest and best fibres and arranges them in the same direction, preparing them for worsted spinning.
It has made lovely yarn which I spun with a pair of socks in mind but have since changed my mind and am using it for a sweater.
I posted a couple of photos of the combing but didn't really attempt to write a proper combing turorial because there are some great ones out there already. knitsnthings has done a very thorough job here, showing off her own home-made combs.

While we're with knitsnthings, she will be very busy with those combs because she can't say no to free fleece and takes us on a long journey through her stash.

Felted Lamp
This gorgeous lamp is by saxarocks - a couple of photos on Flickr show it in progress and lit. Shared on Soapbox by noricum
The Mother of the Modern World
There's a little more from Amy of Spinning Daily as she gets herself in trouble with her Mum over the word 'luddite' - it seems that it can be taken as a derogatory term when meant as one of endearment. She also looks at whether the spinning wheel may be responsible for the invention of the drive belt after the spindle was turned on its side with a larger wheel added for propulsion.

Tiny Turkish
Jobo Designs tries a tiny Turkish spindle and enjoys it.

The Lovers, The Dreamers and Muppets
radmegan felt inspired to make one of her childhood heroes (and mine) Kermit. She takes us on a litte needle-felting tutorial:

Finished shawls
Maybe it's the time of year, but these two posts, each featuring a lovely finished handspun shawl were written at almost the same time.
Oh, Heavenly Day.. from farmwitch
Handspun Friday - Sprout & Andrea's Shawl

100% pure wool
No, this is not me but I'd consider it! It's jeshknits who is now certified 100% pure wool. (Or possibly 100% certified).
Shared by CraftyCrafty
---
News and articles from handspinner.co.uk
Show us yours

I'd love to see and share what you've been up to. Not just with June's freebies but generally. Don't be shy.
Gwyn tried the fibres from June's sample pack and says that she had no problems spinning each fibre on its own. She says, "I must say my favourite was the cashmere. I hadn't spun prepared fibre for a long time because I had been given a few raw fleeces."
(Other fibres in the pack were alpaca, yak, angora, mohair and camel, all undyed natural colours.)
In readiness for the cold weather, she knitted the samples together in stocking stitch one after the other in a thin-but-wrap-lots-of-times style and is pleased with the results which she says is cosy and soft.

It's lovely to see one of my decorated wheels again. I hope Gwyn is now enjoying her little thank-you parcel.

Other offers this month
By coincidence I have two ex-demo Joy spinning wheels, both boxed and in their original packaging and used very little. While they're still available they'll be listed on my secondhand page.
---
Events 2011
I have no information about major events during the remainder of 2011 (if you know of anything, please let me know)
I'll start to compile 2012's events next month.
---
Courses and tuition
Please let me know if you are or you know a tutor with a calendar of events.
---
As usual, if you know anything spinning-related, please let me know.
Happy spinning and don't be a stranger!
Shiela
If you're reading this newsletter on the web and would like it delivered to your email inbox every month, just fill in your email address in the box somewhere up there on the right. If you've reading this in your inbox and would prefer not to receive any more, just use the Mailchimp 'unsubscribe' link at the foot of the email.
---
Previous issues of this newsletter:
---
If you've enjoyed reading this, another way to share it with your friends is to use these sites:
Fibre

A range of fibre from wool to exotic and luxury fibre for spinning, dyeing, felting: wool, silk, alpaca, cashmere, mohair, camel, yak and angora ready to spin. Also raw fleece and colour bundles and original mixes
Spinning wheels

A range of Ashford Spinning Wheels, either delivered quickly to your door, or assembled and finished for free. Also my hand painted spinning wheels. I usually have some second hand spinning wheels too.
Getting started

Hand / drop spindles, Starter kits, How to... articles and videos, books, starter fibre bundle
Magazines and cards

Why not add one or two to your order? These cards, hand made by Jules of 'Always with a Heart' feature a textured sheep. Perfect for your friends or for the spinner / knitter in your life. I now stock Selvedge magazine and Yarnmaker magazine.