Vibrancy
Newsletter from handspinner.co.uk for May 2011
I love May; growing things are leafing and blooming most enthusiastically and colours are most vibrant.
Lolly has chosen red as the inspirational colour for May as part of her Project Spectrum. Find below links to loads of responses to this exercise which will give you inspiration and ideas based on this most passionate or provocative of colours. Maybe you'll be moved to take part.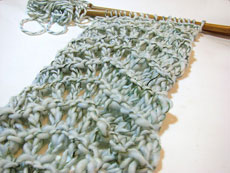 On a more tranquil note, I'm delighted that several people have produced yarn using our spring cherry-blossom image as a starting point, and what a varied selection of ideas and results we now have. The winner and a special offer for everyone are all below.
But that's not all, not by a long way. As usual I've compiled a month's worth of spinning news, reviews, blogs and siliness.
Contents
---
News from around the web

Creating Colors: Project Spectrum 2011
Project Spectrum is an opportunity to celebrate or study a different colour or colour group every month. Focussing on 'back to basics', this year Lolly kicks off the project with red for the month of May and will follow with the 'additive' primaries, the basics of coloured light rather than pigment. Those being red, green, blue, then magenta, cyan and white/grey.
Check out the project's Flickr group for loads and loads of inspiration. You can post pictures of dyed fibre, yarn or finished projects.
There are also Facebook and Ravelry groups for chat and more information.
Project Spectrum Flickr photo pool
Project Spectrum Facebook group
Ravelry group

Hancarding and english longdraw with longdrawjames
Woollen yarn is soft, bouncy and airy, and is spun by spinning longdraw from a rolag.
The difference between worsted and woollen, and the relevant preparation / drafting techniques are something that can take time for new spinners to get to grips with. Star of Wonderwool, longdrawjames has made this absorbing video in which he explains and demonstrates carding, making a rolag and longdraw spinning.

Ray Cannon's Needle Felted Art
Ray Cannon has been needle felting for a year but quickly started to create very lifelike creatures.
This is one of the most detailed pieces of needle felting I've seen, and such a clever idea to include those disturbingly realistic eyes.
Ray recently displayed his work and demonstrated his skills at Cast Away yarn store.
Read more. (With thanks to Craftzine for sharing.)
I have recently added some Clover needle felting punches and mats to my range of Needle felting tools, kits and books

Dyed in the wool
After a serious spate of thefts, Dartmoor sheep farmer John Heard has tackled the problem by dyeing his flock of 250 blackface ewes orange.
He hasn't lost a single one this year. Who's going to be the first to contact him for a pre-dyed fleece?

Blogpick:
I have friends who like to sew as well as knit, but as far as I can remember I've not seen the two crafts combined in this way before.
I'm sorry to say that I didn't take French at school, but I gather from a slightly-unreliable online translation tool that the wool panel is knit from handspun yarn.
Read more about this pillow/bag made by owl_mania and shared by Knithacker.

Tutorial: Saori weaving
Pam finds this technique expressive and relaxing. It's very portable, uses oddments of yarn and best of all reqires no special equipment (assuming you have a darning needle and some card).
If weaving grabs you and you want to go a little further, check out the rigid heddle loom and more portable knitter's loom
---
From the blogosphere

Blogpick: Anne's Knitting Takes a Spin!
How would you describe the difference between knitting with handspun and commercial yarn?
In this fascinating blog post, Ann Budd takes a course and returns to spinning and feels like a fish returned to water and is now 'obsessed'. (These socks are hers, made from her own handspun.) See how she describes the difference between handspun and commercial yarn.

Blogpick: Spring Cleaning... Fleece!
it's shearing time - but is free an excellent price for a fleece? It may or may not be!
In this post, knitsnthings shares lots of pictures of fleece in various stages; raw (from very dirty to reasonably clean) washed, combed and spun.

Blogpick:French General's Woad Workshop
This diary of a natural dyeing workshop from Jenny Ryan contains a lovely selection of photos of the plant, the pigment and the dyed fabric.

The Spinner's Glossary: Flyer wheels
I mentioned the spring/summer Knittyspin last time, but didn't highlight this very useful article in which Lee Juvan explains double-drive and single-drive (scotch and irish tension).
It also includes a chart showing many popular spinning wheels and which type of drive each has.
---
News and articles from handspinner.co.uk
March / April giveaway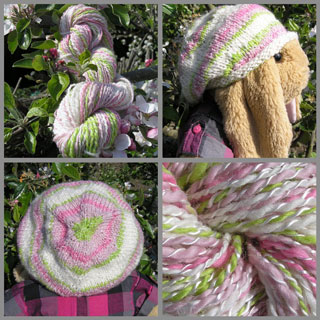 This year's spring competition was an invitation you to make some yarn inspired by this springtime photo of cherry blossom.
Thank you so much to everyone who's posted photos. Once again we have a lovely gallery of images and some surprisingly varied ideas.
I'm very pleased that once again Alison Daykin agreed to judge the competition.
She says, "What a choice, but head and shoulders above the rest was Spinstar. So beautifully matched to blossom and beautifully spun.
"A special mention should go to Myheartexposed, lovely colours. Familyhandspun's attempt also warrants mention as it captured the sky as well."
Congratulations to Spinstar, aka Catherine. The prize is on its way.
Once again, a big thank you from me to everyone who's entered and thank you to Alison.
Alison, who works professionally as Alison Yule Textiles, is an award-winning textile designer, weaver, spinner, author and teacher with long experience. She would love to see natural dyes take over the world and supplies natural dyes through Pure Tinctoria.
You can also find details of her regular monday class and spinning, weaving and dyeing holidays in the Courses and tuition directory below.

May offer
This time I thought it might be nice to try an offer that everyone can access.
I've been getting good comments about some of the exotic fibres I stock; camel, mohair, yak. So I'll put these on offer for subscribers to try at a 20% discount this month. Just enter the code 'SUBSCRIBER' into the box by those items. Please pass this code on - I'm very happy for your friends to use it, and I'll add them to the subscriber list when they order.
To access the offer, visit one of these pages:
http://handspinner.co.uk/camel-tops.html
http://handspinner.co.uk/mohair-kid-tops.html
http://handspinner.co.uk/yak-fibre-spinning.html
New Items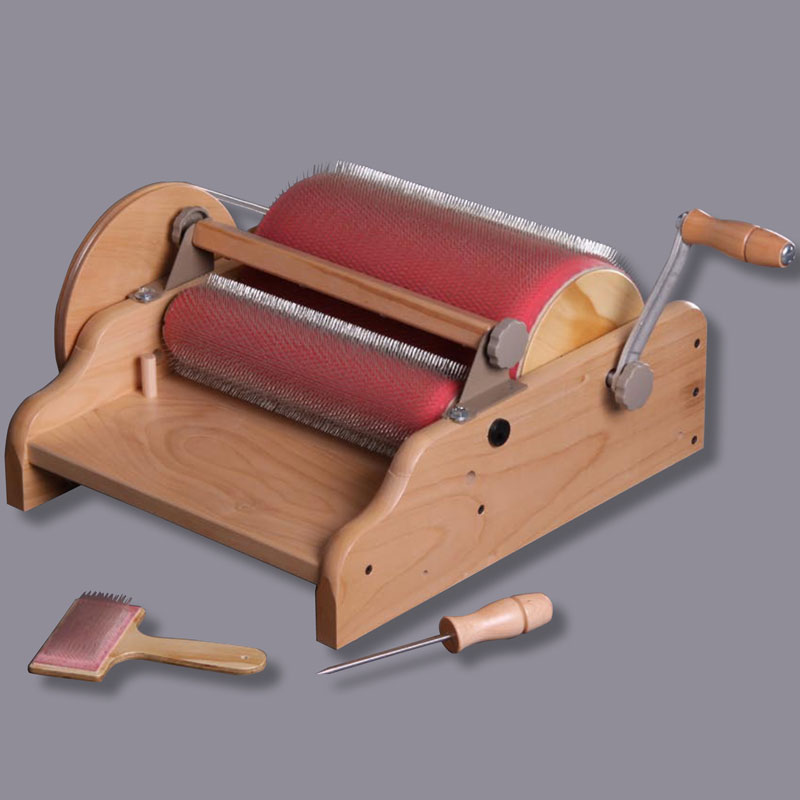 New extra wide drum carder
It gives me pleasure to bring you news of a new 30cm / 12 ins wide drum carder. It has the same 72dpi carding cloth and two speeds as the standard drum carder, but the wider drum makes for faster production; making a massive 100g (3.5 oz) batt. It comes with packer brush and cleaning brush included.
It is expected in the country during August or September. My price will be £418 (RRP £460) If you would like to pre-order with a deposit, please contact me.
You will of course be able to take advantage of my hire scheme or spreading payments scheme.

Needle felting
I have recently added some clover needle felting punches and mats to my range of Needle felting tools, kits and books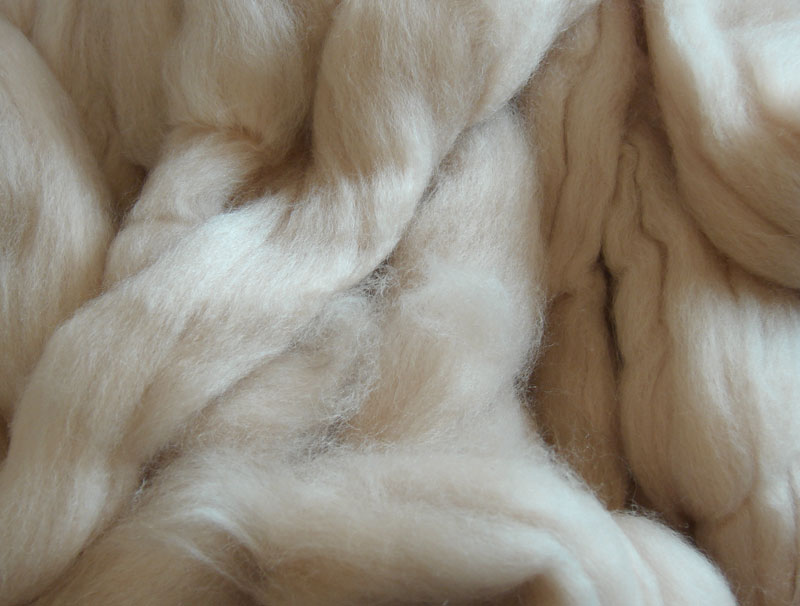 Baby alpaca - natural white
I have added some beautiful alpaca tops to my range. Currently white, but colours promised soon.
Luxurious soft fibre, dehaired tops, 21-23 Micron.

Selvedge magazine, May/June 2011 issue (number 40)
Selvedge magazine is a special and collectable magazine, covering interior design and contemorary textile art.
This 'Britannia' issue features British design, fashion and designers. The Festival of Britain, Court dressmakers and fashionable tailors, East Anglia and the Norwich Textile Trail, Militaria.
Read more about Selvedge magazine and this issue.
Yarnmaker issue 5 (May/June)
I understand from Dorothy that this issue has been delayed by unforseen problems, but will be available very shortly, perhaps even by the time you're reading this.
Read more about Yarnmaker magazine.
---
Events 2011 (get 'em in your diary now)
Woolfest
24 & 25 June 2011, Cockermouth, Cumbria
A celebration of natural fibres, especially all aspects of wool, wool products and wool crafts.
From fleecy animals and rare breeds, through fleece, tops, craft equipment and materials, to finished clothing, accessories and unique hand-crafted woollen goods.
Also workshops and masterclasses.
Fibre East

23 & 24 July 2011, Thurleigh, Bedfordshire
Fibre East is a new festival, giving those in the Eastern, Midlands and Southern Regions an opportunity to join in an event which aims to encourage and promote natural fibres. A 'Sleeping Beauty'-style Great Wheel, unusual Brinkley looms, African fair trade buttons, a spinning wheel surgery and a host of companies supplying wools and fibres, yarns and equipment for knitters, spinners, and weavers will be among the attractions.
Fibre-East has its own Ravelry group: http://www.ravelry.com/groups/fibre-east-2011 and Twitter stream: http://twitter.com/FibreEast
FibreFest
20 & 21 August 2011, Bicton College, Nr. Exeter, Devon
There will be something here to interest all those fascinated by fibre, with as wide a range of activities as possible. Trade Stands offering yarns, braids and cloth plus a full range of supporting craft equipment. Get acquainted with some of our fibre animals.
Tutors will be holding inspirational in-depth Workshops, taster sessions and Seminars. Additional features include an Exhibition by Bicton's Fibre Craft Students..
British Wool Weekend
3 & 4 September 2011, Great Yorkshire Showground, Harrogate.
More information soon.
---
Courses and tuition
Please let me know if you are or you know a tutor with a calendar of events.
---

Dear Auntie Shiela
Here I do my best to help slightly fictional spinners / knitters in distress.
This time an unfortunate incident threatens a friendship
Dear Shiela
Thursday was our local spinners group. This time it was the night before the royal wedding. I put on a smart suit and my big hat especially to watch the proceedings on the telly. Oh, didn't that young lady look beautiful. And her man so handsome. It reminded me so much of me and Mr H's wedding day and brought back some lovely memories of the day, some embarrassing ones of the reception and some disconcerting memories of the wedding night but perhaps the less said about that the better.
Anyway, the chairs at the group are hard and so I like to use a cushion. Having forgotten mine, Mrs J lent me a lovely cushion she'd made recently.
Now it was an accident Shiela, but I don't think she believed that I'd spilled my lemon tea into my lap. She asked why my cup was still quite full and why I hand't scalded myself. A little tea goes a long way, doesn't it?
How can I look her in the eye at the next meeting, and do you know how to get the stain out of her cover?
Ada
A: You could try a commercial stain remover but more traditional remedies include spraying with vinegar / water mix and blotting or rubbing with baking soda and water before rinsing off. Maybe making her a present might be a nice gesture and might help to relieve the awkardness.
Shiela
---
As usual, if you know anything spinning-related, please let me know.
Happy spinning!
Shiela
If you're reading this newsletter on the web and would like it delivered to your email inbox every month, just fill in your email address in the box somewhere up there on the right. If you've reading this in your inbox and would prefer not to receive any more, just use the Mailchimp 'unsubscribe' link at the foot of the email.
---
Previous issues of this newsletter:
---
If you've enjoyed reading this, another way to share it with your friends is to use these sites:
Fibre

A range of fibre from wool to exotic and luxury fibre for spinning, dyeing, felting: wool, silk, alpaca, cashmere, mohair, camel, yak and angora ready to spin. Also raw fleece and colour bundles and original mixes
Spinning wheels

A range of Ashford Spinning Wheels, either delivered quickly to your door, or assembled and finished for free. Also my hand painted spinning wheels. I usually have some second hand spinning wheels too.
Getting started

Hand / drop spindles, Starter kits, How to... articles and videos, books, starter fibre bundle
Magazines and cards

Why not add one or two to your order? These cards, hand made by Jules of 'Always with a Heart' feature a textured sheep. Perfect for your friends or for the spinner / knitter in your life. I now stock Selvedge magazine and Yarnmaker magazine.