Out like a lamb
Newsletter from handspinner.co.uk for April 2011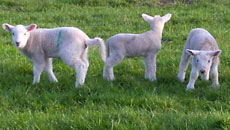 March is said to come in like a lion and go out like a lamb. Whether that's true or not, the wintry weather seems to be well behind us (although not for Marion who's taken her wheel to Antarctica) there's colour inspiration in the form of flowers, blossom and leaves, there are lambs gamboling around and we have the pictures to prove it.
Depending on when you're reading this (or indeed when I send it out) you may be about to go or just back from Wonderwool. This and more events are listed below. If you can't make those, I hope that you'll find inspiration here instead in the form of this month's distillation of spinning news, reviews, blogs and siliness.
Contents
---
News from around the web

Spinster's Corner : Batts
What do you do with that rolled-up rectangle of fluffy goodness that you buy online? This article at The Ennea Collective explores the options. It's worth exploring The Ennea Collective too - the online mag contains some great articles.

Silkworms spin coloured silk
In Singapore, scientists have produced coloured silk straight from the worm by lacing their mulberry leaves with flourescent dye.
The simple process could be a green alternative to conventional dyeing which uses vast amounts of water and dyes.
A full range of reproducable and consistent colours could be on the market within a few years.

Spring/Summer KnittySpin
There's a feathery theme to the latest KnittySpin. The Lilah shawl was inspired by a fallen angel. The lace shawl is shown made three quite different colourways including the black and white handspun version shown here. I love the graduated effect as the white changes to black.
---
From the blogosphere

Blogpick:Extreme spinning
Yes, that's a photo of someone using a Little Gem, that's the Antarctic and those are curious penguins looking on. This is one of the most amazing blogs I've seen. Our blogger, the very well-wrapped-up Marion, is on a trek to Antarctica with her portable spinning wheel.
Explore the website for lots of fascinating and extrelely cold adventures.
A selection of spinnig posts from the blog

Blogpick: Back to Back Wool Challenge - Toronto Spiders
The Back to Back competition challenges a team of eight to start with a fleece still 'on the hoof' and finish a sweater. That's shearing, spinning, plying and knitting without stopping until it's ready to wear.
Back in February, the Toronto Spiders completed the challenge and improved on their previous best time.
Legend has it that this event inspired Richard Ashford to design the tensioned fast-bobbin-change Competition lazy Kate.

Blogpick: Natural dyeing with birch
Leena has achieved some beautiful yellows with leaves from birch trees. The green leaves dye yarn yellow, and the bark makes pinks.
Note that you can scroll down past the icelandic for an English translation.

Blogpick: Progression of a shawl
I made a collection of my favourite posts from Knitting and Crochet Blog Week. This is my favourite and one of very few spinning-related posts that I found. For the fifth day of KCBW, Christine of Needle in my Vein posted this beautiful collection of photos showing the progression of a gorgeous shawl from fibre to finished.

Blogpick: Handspun Cushion Completed
It's always good to see a finished project. This cabled cushion started as fleece and we've seen Sue carding and spinning the yarn. She will show it at a Guild exhibition in May.

Shearers turned away from the UK?
Sheep shearing has recently been included in a list of unskilled jobs to be limited from the UK. In this blog post, Shearer's Girl sets out a rational and convincing case against this move. It seems that a transition arrangement means that shearers from outside the UK will be able to work this year.
The post kicked off a discussion on Ravelry with some interest in a UK shearing course.

Washing locks
In this episode our yarnspinner talks us through washing some different fleeces in locks.
She spends quite a bit of time on the processes of washing through to drying (which she does acknowledge) but do stick with it for useful comments about assessing the locks after drying, deciding what to do with it and how to spin it.
This is episode number 59
Information about podcasts - what on earth they are and how to access them - and a list of other spinning podcasts is still available in this blog post

Blogpick: Spring competition
Am I allowed to pick my own blog post? Not sure, but I'd love to see more entries in the competition, so by way of encouragement (because I'm sure you have different and better ideas), here's my go.

Blogpicks: More pictures to make you go 'Aaahhh'
I'm sorry, it may be latent maternal feelings but I don't care. I can't resist including more of these. As Vicki at Knitorious says, there are lambs everywhere. These photos are so cute.
---
News and articles from handspinner.co.uk
March / April giveaway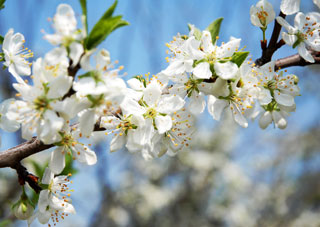 Similar to last year's spring competition, I'm inviting you to make some yarn inspired by this springtime photo of cherry blossom.
Apologies if you had trouble seeing the image in the last newsletter, I forgot to add the full-size photo to the Flickr group before I sent out the newsletter. But please try again, all's working now (fingers crossed!)
It's a freestyle event - do whatever you like, dye the fibre, mix bought dyed or natural fibre, use animal, vegetable or synthetic, straight or funky, whatever you like.
To enter, join the group on Flickr and add your photos. If you have trouble with that, simply email them to me. I did say last time that the closing date would be the end of April, but that should be mid-May to give you the full two months.
Entries will be visible on Flickr and handspinner and if you win, as chosen by an independent yarnmistress, you will receive a £40 gift voucher to spend on or put towards anything you like at handspinner.co.uk
(my 'entry' is now showing, but I'll obviously be exempt from the prize!)
Visit http://www.flickr.com/groups/1599384@N25/ to access a bigger version of the photo and to post your entry. Post as many photos as you like, but please only one type of yarn per spinner.

Finding what you're looking for
Don't know where to start? Or maybe you've used handspinner.co.uk before but are wondering what else you've missed. The site now has 150 pages and counting. They're all available via the menus near the top of this page, but to help you find what you're looking for I've made some new ways to find your way around.
The sitemap page now has a graphic 'wheel of fortune' and a tag cloud, with the most searched-for things big and bold.
The good old search box and directory are still there. Scroll down to find those.

Customer rating system
When you check out at handspinner.co.uk, you'll now be able to rate the experience and for your comments. Ratings and comments will soon be visible to others.
If you leave your email address (yes, I know you've already given it to Paypal, but PP and ShopperApproved aren't talking) then you'll also have the opportunity to rate the communication and delivery.
Please do use it, it helps your fellow spinners when they're thinking about shopping, and it helps me to improve things by seeing what you like and don't like.
New Items

Hand-turned bottom whorl drop spindles
A selection of spindles, hand-turned in Wales by Woodland Turnery.
Available in (L-R) ash, spalted beech, sweet chestnut.

Andean (Peruvian) plying tool
This tool is a substitute for your hand when andean plying, a method of plying one length of singles with itself without a lazy Kate. (video - andean plying)
If your middle finger loses circulation, or if you have trouble pulling the singles off your finger, then this tool will make things easier and more comfortable.
Wind the yarn around the tool in the same way that you would wind it around your thumb, middle and litte fingers. Then simply join your two ends, pull out the peg and ply using your wheel or spindle.
Handmade in Wales, French polish finish.
---
Events 2011 (get 'em in your diary now)
Wonderwool Wales
9 & 10 April 2011, Royal Welsh Showground
Promoting wool and natural fibre production and its use.
Exhibitors and Trade Stands covering all aspects of felting, knitting, weaving, spinning, crochet and textile art with raw materials, equipment, books and finished products for sale. Competitions and a range of workshops tba.
Camping facilities are available on site and a list of accommodation in the surrounding area is available on the Wonderwool website.
Woolfest
24 & 25 June 2011, Cockermouth, Cumbria
A celebration of natural fibres, especially all aspects of wool, wool products and wool crafts.
From fleecy animals and rare breeds, through fleece, tops, craft equipment and materials, to finished clothing, accessories and unique hand-crafted woollen goods.
Also workshops and masterclasses.
Fibre East

23 & 24 July 2011, Thurleigh, Bedfordshire
Fibre East is a new festival, giving those in the Eastern, Midlands and Southern Regions an opportunity to join in an event which aims to encourage and promote natural fibres. A 'Sleeping Beauty'-style Great Wheel, unusual Brinkley looms, African fair trade buttons, a spinning wheel surgery and a host of companies supplying wools and fibres, yarns and equipment for knitters, spinners, and weavers will be among the attractions.
Fibre-East has its own Ravelry group: http://www.ravelry.com/groups/fibre-east-2011 and Twitter stream: http://twitter.com/FibreEast
FibreFest
20 & 21 August 2011, Bicton College, Nr. Exeter, Devon
There will be something here to interest all those fascinated by fibre, with as wide a range of activities as possible. Trade Stands offering yarns, braids and cloth plus a full range of supporting craft equipment. Get acquainted with some of our fibre animals.
Tutors will be holding inspirational in-depth Workshops, taster sessions and Seminars. Additional features include an Exhibition by Bicton's Fibre Craft Students..
British Wool Weekend
3 & 4 September 2011, Great Yorkshire Showground, Harrogate.
More information soon.
---
Courses and tuition
Please let me know if you are or you know a tutor with a calendar of events.
---

Dear Auntie Shiela
Here I do my best to help slightly fictional spinners / knitters in distress.
This time - admirable though it is, our correspondent's attempt at spinning out in the open leads to a series of scrapes.
Dear Shiela
I have heard that old women in other countries walk around while spinning, or spin while walking around. One or the other.
I had to walk into town for some essentials today, and thought that I might take my drop spindle. People knit on busses and in caffs. I've seen pictures of Yarn Harlot walking with her knitting when she can't put it down. What could go wrong?
I'll tell you what can go wrong. First it was the very rude boy who told me to watch where I was going (I'm sure that's the gist of what he said. I didn't fully understand). As his elder, shouldn't he be watching out for me, not the other way round? And anyway, I wasn't going to listen to any advice from him while his trousers were hanging halfway down his backside. I could see his pants, Shiela!
Then there was an over-protective mother. I was probably being a bit overenthusiastic with my spindle when the little boy stopped it with his head. The lump will go down before too long, and he was already sitting in a push-chair, so it's not true that I knocked him over.
I'd been doing really well, I was able to walk along and draft and twist all at the same time. But I found myself with a bit of a tangle in my left hand to sort out, and I couldn't carry on walking with the spindle parked between my knees, so I guess I stood still for a little while. Not too long, but the lady who started honking at me was very impatient. 4x4 drivers seem to think that they can park where they like and inconvenience other people, but don't like it when they have to make way for someone else. And anyway, at a zebra crossing you have to wait for pedestrians to get to the other side. It's in the Highway Code. Isn't that right? None of that went down very well.
That was all too much, Shiela. I don't want to defer to all those rude people, but my doctor has advised me to avoid stressful situations for my blood pressure's sake, so should I leave the spindle at home?
Ada
A: I think you've answered most of your questions, Ada. But I don't think you should leave it at home. Just leave it in your bag till you get to the caff. And if I see you there I'll come and join you.
Shiela
---
As usual, if you know anything spinning-related, please let me know.
Happy spinning!
Shiela
If you're reading this newsletter on the web and would like it delivered to your email inbox every month, just fill in your email address in the box somewhere up there on the right. If you've reading this in your inbox and would prefer not to receive any more, just use the Mailchimp 'unsubscribe' link at the foot of the email.
---
Previous issues of this newsletter:
---
If you've enjoyed reading this, another way to share it with your friends is to use these sites:
Fibre

A range of fibre from wool to exotic and luxury fibre for spinning, dyeing, felting: wool, silk, alpaca, cashmere, mohair, camel, yak and angora ready to spin. Also raw fleece and colour bundles and original mixes
Spinning wheels

A range of Ashford Spinning Wheels, either delivered quickly to your door, or assembled and finished for free. Also my hand painted spinning wheels. I usually have some second hand spinning wheels too.
Getting started

Hand / drop spindles, Starter kits, How to... articles and videos, books, starter fibre bundle
Magazines and cards

Why not add one or two to your order? These cards, hand made by Jules of 'Always with a Heart' feature a textured sheep. Perfect for your friends or for the spinner / knitter in your life. I now stock Selvedge magazine and Yarnmaker magazine.