Dark nights and Christmas lights
Newsletter from handspinner.co.uk for November 2011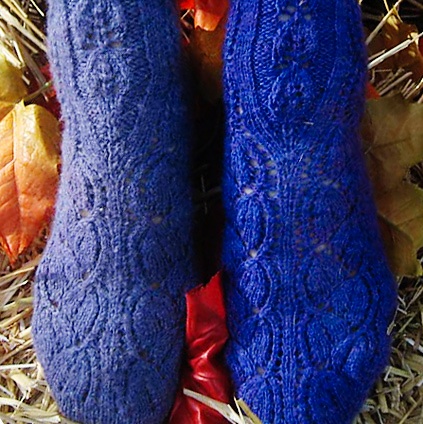 The darker nights are now upon us and the festive season is just around the corner.
The fact that I missed October's newsletter didn't go unnoticed. Apologies if you were sitting by your inbox waiting. But that does mean that this is a bumper issue ahead of Christmas.
Speaking of which, as well as a bumper crop of spinning stuff harvested from the web, I do have some important things to pass on about Christmas posting, the advent calendar and an imminent price increase from Ashford, so for this one time only, my own news is near the top before the fun stuff.
So on with this month's digest of spinning-related news, views and amusement.
Contents
---
News and articles from handspinner.co.uk

Christmas ordering and my policy
It still seems a little early to use the 'C' word, but it's rapidly approaching, along with the seasonal backed-up postal system caused by the volume of parcels and if December is as cold as last year - the winter weather.
I've updated my postage policy in line with the changes that are outside my control at this time of the year, but in short:
Regardless of the 'last posting day' deadlines, please order as early as you can. Even if the post is moving, I may struggle to keep stock of certain items.
consider adding special delivery to your order. The Post Office drop their 'next day' guarantee for these leading up to Christmas, but still give Special Delivery priority over first class - and it is tracked.
The most common cause of first-class parcels not appearing when expected is that they've been taken back to the sorting office (not post office) and no card seen. Please check with them first before contacting me.
If you have ordered more than three weeks before Christmas and the parcel doesn't show, please contact me *well* before Christmas Eve to give me time to do what I can.

Annual price increase
I've already had the 2012 price list from Ashford. At first glance, prices look to be be 10-20% more than they currently are.
It's effective 1 Dec 2011, which means that as from that date I'll be buying at the new price and selling at my old price. As per previous years I will be holding my prices for a while. Until after Christmas in fact.
So please note that in January I'll begin to change my prices. This and the inevitable Christmas 'out of stock' problems, it may be worthwhile jumping in now!
What's new?

Hand Spinning and Natural Dyeing by Claire Boley
On a happier note, I've been able to review a new beginner's book. It's a well-illustrated and comprehensive book, which covers hand spinning using a spindle and a spinning wheel and also natural dyeing.

Selvedge magazine, September/October 2011 issue (number 42)
I should have highlighted this one last month
Selvedge magazine is a special and collectable magazine, covering interior design and contemorary textile art.
an 'Intrigue' issue with themed articles about textiles with strange tales to tell, such as First class style; style on the Orient Express, Stylish sleuths; style in Crime, Death by design; notorious figures with connections to the textile industry, All rise; legal dress, Crimes of fashion; crime and the textile industry.
Read more about Selvedge magazine and preview this issue.
I also have Selvedge backnumbers 33, 34, 35, 36, 37, 38, 39, 40 and 41 in stock

Wishing Ewe Christmas Joy
It would be wrong not to mention these.
But having had a rant in the post office recently about how soon they had put out their Christmas cards, I do feel a little guilty.
Only a little, because they are beautifully made by Jules of Always with a Heart.
Perfect Christmas cards for your friends or for the spinner / knitter in your life.
Show us yours

I'd love to see and share what you've been up to. Not just with June's freebies but generally. Don't be shy.
Susanna has sent me this amazing picture of one of her dolls wearing a wig made from the Yew-Tree Farm Zwartbles fleece that I've been selling this year. She says that it's been much admired.
I've begun making a jumper from the same fleece. Zwartbles is as black as can be (aside from the bleached tips) and spins and felts very well.
I do actually have plenty left, although it's disappeared from the site; I couldn't keep up with washing and drying it as fast as it was being ordered. If you'd like some, washed or unwashed, please email me at shiela@handspinner.co.uk.
I hope Susanna is now enjoying her little thank-you parcel.
Advent calendar
I've always had great feedback about this, but it's time-consuming and difficult to run during the busiest month of the year.
I will still be sending out the daily emails, but they will take a slightly different form this year.
I have some offers, but not a daily one. Instead, each day I'll send items of interest, news, tips or tutorials.
I can include offers from spinners / dyers / fibre people, if such lovely people would like to come forward! Let me know.
As an additional piece of fun, I'll include a letter of the alphabet in each one. By the end of the 24 days of advent, these will spell a message which you can send to me after Christmas and we'll have a prize draw.
If you've received this newsletter in your inbox, then you're on the list. If you're reading it online and would like to receive all this goodness for free, sign up now (over there in the right-hand column) and my mailchimp will make it happen.

Other offers this month
I have one new and unused Katie loom at a special price - for details, please contact me at shiela@handspinner.co.uk.

If you've been thinking beyond eight-shaft weaving, this may be a fantastic opportunity. Katrina has a 16 Shaft loom - 24' / 600mm width - practically brand new.
It's fully assembled, which will save you lots of time so you can begin warping right away.
For more details, see my secondhand page: http://handspinner.co.uk/second_hand_spinning_wheels.html#weaving
---
News from around the web

How To Build an Inkle Loom
An inkle loom is a small, narrow loom for weaving trim, bands and straps.
This 'how-to' from Craftzine explains to the handier among us (or those with handy people nearby) can make one of these looms for a claimed 30 dollars (about 20 pounds)
Read more at http://blog.craftzine.com/archive/2011/09/how_to_build_an_inkle_loom.html

Free Table Runner Patterns from Weaving Today
Table runners are popular projects among weavers; rectanglular and not necessarily needing complicated finishing. They also afford the opportunity to try new techniques and yarns
This free eBook gives you 4 patterns which look great and include techniques such as log cabin and Waffle weave on a rigid-heddle loom.
You just need to give your email address if you haven't already signed up with Weaving Today.

21st century protection for wool
It's great news that the new wealthy of China are taking an interest in British wool and an even more amazing story that to provide the necessary guarantees, an American company has set up a lab in Huddersfield to provide genetic fingerprinting services for cloth!
Thanks to Devon Fine Fibres for the story

Knittyspin Deep Fall (late autumn) 2011
Online mag Knitty's spinning-related sister is out and Items this time include a tutorial about finishing your yarn - winding and setting a skein, a lovely sock pattern for handspun and a Fair-Isle hat with a separate article about making the coloured yarn required.
---
From the blogosphere

Blogpick: Let's be Square
I've featured Vicky from Knitorious recently because I loved her "see what happens" approach to dyeing.
Here's more experimentation and I have had to read and re-read because I can't believe those St Andrews crosses came out by accident!
I was struggling to find more Project Spectrum, but determined to finish the series, and this fits in beautifully with cyan for October.

Blogpick - why ply?
There are several reasons for plying, but knitting with singles is arguably still very effective.
In this interesting guest blog post on Knitting Daily, Toni explores the topic further.

Politically Incorrect fibre
An old post, but it has just caught my eye, or rather the title did. You'll have to read the post to find out what the title means, but the interesting part of this for me was that Bockstark Knits has found spinning from batts to be less satisfactory than commercial roving. Perhaps the batt in question was particularly 'rustic' and I can see how that would be an unhappier experience than using milled roving.
My response to this would be that a batt may play less nicely, but offers more in terms of blend of fibres and colours, and the opportunity to split it and spin it in a variety of ways. This gives me the opportunity to highlight once more a couple of things mentioned in previous newsletters about the options for dealing with batts:
Free eBook: processing wool guide
This article at The Ennea Collective

Blogpick - MOTs for rams
After reading this one, I filed it under 'too much information' and wasn't sure about whether to share it. But it is a fascinating read in a 'through-the-fingers' kind of way.
Shearer's Girl is passionate about her vocation and it is interesting to learn more about what goes on behind the scenes as our raw material is reared.
Read more... (not for the faint-hearted)

Blogpick - Handspun Friday - Lithos
I look forward to Monika of Smokin' Hot Needles' Handspun Fridays. She posts pictures of the dyed fibre together with pictures of the finished yarn and I'm still fascinated with how the colours play out.

Blogpick: Double marl
Knitty have given us articles about marling before, but in this post Jillian tries using strong and contrasting colours marled together for her singles, and then plies two of those singles for really mixed-up colours.

Tutorial: Core spinning
Jillian at Knitty has been writing a series of blog posts about core spinning. In this entry she's spinning some colourful BFL around some commercial yarn as a core.
She includes tips and a number of useful pictures showing how she holds her hands
Explore the blog for more posts in this series.

How-to: felted piggy-ears
Go on, admit it, you're as curious about knitting for felting as I am but share my apprehension about trying it...
This tutorial will reassure you and take you through the quite simple steps with no special equipment. A fun project!

Blogpick - Bunnysilk Cashmerino
Soft, warm and well-wearing, this yarn made by knottygnome mixes tussah silk, english angora and superwash merino/cashmere/nylon.
Instead of blending the fibres, she has tightly plied three different singles, and then dyed the result herself.
For lots more detail, Read more at http://knottygnome.blogspot.com/2011/10/bunnysilk-cashmerino.html
---
Events 2012
Wonderwool Wales
28 & 29 April 2012, Royal Welsh Showground
A little bit later than last year. Promoting wool and natural fibre production and its use.
Exhibitors and Trade Stands covering all aspects of felting, knitting, weaving, spinning, crochet and textile art with raw materials, equipment, books and finished products for sale. Competitions and a range of workshops tba.
A list of accommodation And camping in the surrounding area is available on the Wonderwool website.
Woolfest
Friday 22 and Saturday 23 June, Cockermouth, Cumbria
A celebration of natural fibres, especially all aspects of wool, wool products and wool crafts.
From fleecy animals and rare breeds, through fleece, tops, craft equipment and materials, to finished clothing, accessories and unique hand-crafted woollen goods.
Also workshops and masterclasses.
Fibre East

14 & 15 July 2012, Thurleigh, Bedfordshire
It's great to see that the Fibre East festival will be held again in 2012 following the success of the first one last year. It gives those in the Eastern, Midlands and Southern Regions an opportunity to join in an event which aims to encourage and promote natural fibres.
Fibre-East has its own Ravelry group: http://www.ravelry.com/groups/fibre-east-2011 and Twitter stream: http://twitter.com/FibreEast (tweets for the 2012 event yet to appear)
http://www.fibre-east.co.uk/ (New website under construction)
---
Courses and tuition
Please let me know if you are or you know a tutor with a calendar of events.
Spinning and weaving holidays
If the listing below does not display properly, please view it on the web at http://handspinner.co.uk/links.html
with Skylark holidays and Alison Daykin. Alison also has a less formal 'Monday night group': spinningandweaving.weebly.com
---

The meaning of Loft
A new feature in which (with tongue in cheek) I will try to define some of the more obscure spinning terms.
With sincere apologies to Douglas Adams, a truly great man.
Hempstead (n) - a crop or 'stand' of hemp. Grown mostly in China but also in europe and South America.
Sidcup (n) - A traditional turned wooden tool with a short handle and flared end. Opinions vary as to its intended use.
Ardboe (n) - the leather bearing traditionally supporting the drive wheel.
Hextable (adj) - the property of yarn which means that it is strong and can be used as a warp in weaving. "A Hextable yarn".
Peebles (pl. n) - larger bits of grit that you find in the bottom of the tub after washing a fleece.
Ippolyts (pl. n) - An Ippolyt is a parasite, just about visible to the naked eye, living half way along the lock. Destroys the fibre, rendering a fleece with Ippolyts useless.
Hinton (n) - advice given by an elderly and experienced spinner which she believes but seems doubtful. May happen, for example, when she explains the use of a Sidcup. Advice which is more obviously wrong is known as a Great Hinton.
Worthing (n) - Property of a fleece which gives the finished yarn a strong but not very elastic property, like cotton. "The fleece has a good Worthing".
For a more comprehensive and slightly more serious glossary of spinning terms, please visit Spinning Glossary (or 'what does that mean'?)
---
As usual, if you know anything spinning-related, please let me know.
Happy spinning and don't be a stranger!
Shiela
If you're reading this newsletter on the web and would like it delivered to your email inbox every month, just fill in your email address in the box somewhere up there on the right. If you've reading this in your inbox and would prefer not to receive any more, just use the Mailchimp 'unsubscribe' link at the foot of the email.
---
Previous issues of this newsletter:
---
If you've enjoyed reading this, another way to share it with your friends is to use these sites:
Fibre

A range of fibre from wool to exotic and luxury fibre for spinning, dyeing, felting: wool, silk, alpaca, cashmere, mohair, camel, yak and angora ready to spin.
Spinning wheels

A range of Ashford Spinning Wheels, either delivered quickly to your door, or assembled and finished for free. Also my hand painted spinning wheels. I usually have some second hand spinning wheels too.
Getting started

Hand / drop spindles, Starter kits, How to... articles and videos, books.
Magazines and cards

Why not add one or two to your order? These cards, hand made by Jules of 'Always with a Heart' feature a textured sheep. Perfect for Christmas for your friends or for the spinner / knitter in your life. I now stock Selvedge magazine and Yarnmaker magazine.