Connections with the past
Newsletter from handspinner.co.uk for August 2011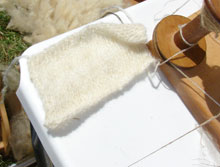 Despite the holidays and nice (at times) weather, this month's harvest of news, reviews, blogs and other things spinning-related has been bountiful. This month two themes have emerged, dyeing and connections with the past. There's also information about preparing fibre, reports from Tour de Fleece and the new Fibre East show. And as usual there are listings of events and tuition, plus a new directory for putting spinners in touch with sheep owners with fleece.
Contents
---
News from around the web

Freebie - processing wool guide
Positively batty (groan). Free guides seem to be a regular feature from Interweave, and they're pretty good too, containing extracts from books that they publish. Check the last two newsletters for their free e-Books on choosing a wheel and learning to spin.
This freebie is 'A Guide to Processing Wool to Make Wool Roving: Washing Wool, Carding Wool, and Combing Wool'. It contains instructions on how to properly wash wool, how to flick, hand and drumcard wool and how to use minicombs. Contributors include Abby Franquemont and Lee Raven.
If you aren't already registered with Spinning Daily, you'll have to give them your email address, but their daily email is worth receiving.

Creating Colors: Project Spectrum 2011
Project Spectrum is an opportunity to celebrate or study a different colour or colour group every month.
Focussing on 'back to basics', this month Lolly continues her look at the 'additive' primaries and she's in the pink for the month of August.
Check out the project's Flickr group for a growing pool of pink inspiration. If you're on Flickr, it's easy to join the group and add your own pink contribution.
There are also Facebook and Ravelry groups for chat and more information.
Project Spectrum Flickr photo pool
Project Spectrum Facebook group
Ravelry group

First Fibre-East tops 1,000 visitors
Some 1,100 visitors came to the first-ever Fibre-East show at Scald End Farm near Bedford over the weekend of 23-24 July.
Visitors were treated to sheep shearing shows, demonstration Back to Back Challenge (from sheep's back to finished sweater), workshops and over 50 exhibitors from across the UK, selling everything from fleece to finished fabric.
Feedback has been so positive that Fibre-East 2012 is already booked in at Scald End Farm for 14-15 July 2012.
"An altogether well worthwhile show" was the conclusion of committee leader Janet Ellison: "We're looking forward to an ever bigger and better Fibre-East in 2012." To keep in touch with the show visit fibre-east.co.uk
In the pics you'll spot yours truly taking part in the back to back demonstration. 'Demonstration' because the group opted for a child-size jumper so that visitors could see the entire process. The jumper was finished in 3hrs 49mins and plans are afoot to go for the full challenge next year.
CamiKnitter gives this FE 2011 report on the fibre-east blog.
Official pics from Saturday: http://www.flickr.com/photos/chilliphili/sets/72157627136325069/
and Sunday: http://www.flickr.com/photos/chilliphili/sets/72157627277558582/
My own pictures of our challenge are here
---
From the blogosphere

Dyeing - natural, experimental and groovy
There have been a few blog posts this month about natural dyeing. Spinstar has been on a day course where she tried a variety of everyday and not-so-everyday substances to dye the mohair yarn that she'd prepared earlier, with sometimes surprising results. The photo to the right shows the range of beautiful colours that she achieved.
I'm sure that's put paid to any thoughts you might have about natural dyes producing dull colours, but if you still need convincing, you must see this post in which Eddie is making a crochet blanket from a wonderful array of coloured yarn dyed with her friend Cecile of The Ways of the Whorl, who has written a number of very useful posts about natural dyeing - achieving blues using black beans, yellows and ambers with onion skin, pinks using brazilwood and more.
Over at Interweave, Sarah Read has also been using tea to achieve a subtle ivory colour with cotton yarn
Vicki at Knitorious has found Project Spectrum useful for some direction and has also tried tie-dyeing. The phrase '...to see what would happen...' made me smile. It's easy to forget that experimentation and fun are key to learning. Vicki tries to document what she's tried, which she admits is difficult when you're having fun.
Not so natural but very groovy is camajhandspunyarn's series of pictures in which she shares her technique for tie-dyeing I'm not so fond of the way the dyed top looks, but scroll further down the page and check out the thick-and-thin yarn spun from the tops which I think is lovely.
Rebecca at Chemknits has also been making tutorials in the form of videos as well as written instructions with photos. If you haven't tried dyeing and fancy a dabble with things you may alreay have in your kitchen, this tutorial shows you how to achieve some great results with food colouring using a space dyeing technique.
If doing it the natural way brings some natural colour to your cheeks, then do take a look at Jenny Dean's books on the subject

Art yarn
Meanwhile, willingtonweaver Alison has spent time with guild members at a Creative Spinning workshop. There are lots of images of amazing art yarn on her willingtonwaver blog, and if you are inspired by those, click through to the Creavive Spinning blog where there are more photos in a slideshow.
Coincidentally there's more art yarn inspiration at the Knitty Blog

Shuttle race
This is nothing more than grown-up Schacht employees having a good time racing vehicles made from boat shuttles. But I enjoyed looking through the pictures of their creativity. Maybe an idea for one of next year's festivals?
Read my full blog post at Stitchin' Bints

Blogpick: Worm alert
This beautiful creature is a silk moth, one of a number that we have known since they were eggs thanks to goldilox of Dyeing to Spin, who's not afraid to get her hands dirty with natural dye or in this case breeding her own silk.
Fascinating fact: silkworms have become dependent on us - if put on a mulberry tree they wouldn't survive because they don't have the ability to find the next leaf. They need to be cultivated in boxes and fed fresh leaves.
We've been able to follow the moths' progress, almost day by day since they hatched. Here are just some of the posts; use the links in her sidebar to read through the full story.
Worm Alert!
The Beginning of the End!
Moths!
Eggs for Breakfast


The Frame-breakers
'Luddite' is a term used about someone who has a fear of new technology. I've been wondering whether that's a bit unfair; the Luddites weren't simply afraid of technology and progress.
Unlike the young people in our cities recently, Ned Ludd and his followers were fighting for their jobs and way of life.
Although it's not proved possible to halt automation and technology, we can't shake off connections with the past. It's clear that we still feel the need to develop and use manual skills to create beautiful and useful things.
Read my full blog post at Stitchin' Bints

Blockpick: Recreation of historic challenge
In 1811, the time of the Luddites, mill owner John Coxeter boasted about his new machinery and was challenged to make a wool coat from fleece between sunrise and sunset for a wager of 1000 guineas. He won the bet and the event provided entertainment for 5,000 people in Newbury, ending in a meal of roast lamb.
More recently, the Kennet Valley Guild of Weavers, Spinners and Dyers recreated the event for charity, completing their replica coat in 15 hours 44 minutes, a couple of hours longer than the original challenge, and not quite beating their previous record-breaking attempt at this challenge in 1991.
Read more at the Campaign for Wool's blog
There's also a full report from organiser Linda Scurr in the current Yarnmaker magazine (number 6)

Blockpick: Why Did They Crochet?
This post relates to crochet but I think the thoughts apply to our spinning, knitting and weaving too.
Why do you crochet? Perhaps income, an escape from troubles, to create luxuries or perhaps just for the love of it. Nothing changes, as Toni from Crochet Me finds as she studies the origins and history of crochet.
In her blog post you can read some of her findings and click through to the Crochet Me blog to share your own thoughts.

Tour de Fleece blog roundup
The Tour de Fleece was a time for personal challenges and was still in progress while I was writing last month's newsletter. I included a couple of my favourite blog posts at the time, and as promised here's a more comprehensive round-up from the TdF fortnight.
I love the scrummy pink that Stell from knit..knit..frog has dyed this perendale. She achieved her personal challenge to spin 160g of it.
realmofthebluerosedragon worked long and hard to fill a jumbo bobbin with this gorgeous gold wool/silk mix. See her later entries to see the singles with beads added.
megan at The Thylacine managed to win a very nice double-drive Traditional at the start of the Tour, gave it a spin in this post and has been incredibly productive during the two-week event.
At the same time, fibre from The Thylacine was being spun by Anni at Confessions of a Yarn Addict. I was fascinated to read about Optim which is treated merino. This pink is silky and a beautiful colour.

I like Tamara's approach, over the fortnight she has made eleven quite different yarns and measured a total of 1.15km of finished yarn. [Really?] This is my favourite post from her series, I've fallen in love with the colours and texture of the dyed bamboo she's spun.
Newish spinner Eleanor took some merino/silk blend and a spindle and settles down for the tour and at the start of the Tour, Sue also posted a lovely selection of photos on the same blog
josiekitten was also very busy and I love the way she's presented mosaics showing fibre, singles and plied yarn for three different projects
---
News and articles from handspinner.co.uk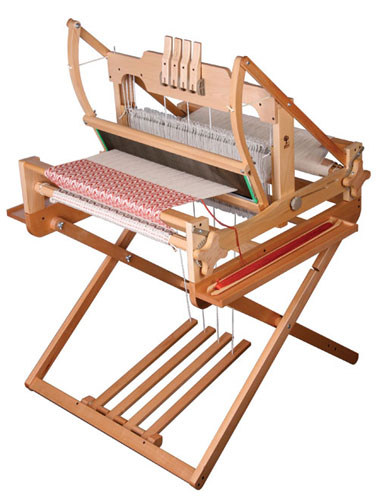 August offer
Due to a sequence of unexpected events, I find myself with more Ashford 600mm (24") 4-shaft looms than I would normally keep in stock. Therefore I have a limited number which I'll offer to subscribers for the very special price of £358 (My regular price £408, RRP £449).
The four-shaft loom allows you to weave more complex patterns, or at least weave them more easily than with a rigid heddle loom. The levers allow you to lift each of the shafts individually quickly and easily. A stand and treadle kit (shown in the photo here) is available separately which supports the loom and makes weaving even quicker as you use your feet to raise and lower the shafts.
While they're still available, you can take advantage of the offer price by visiting http://handspinner.co.uk/subscriber/ashford-table-loom.html
Gallery
Once again, if you're pleased with the results of any of the fibres included in June's sample pack, I'd love to show some pictures here in a future newsletter showing off yarn that you make. I'll send a little something in return for any photos.
What's new?

Yarnmaker magazine issue 6, July /August 2011
Yarnmaker magazine is a UK-based magazine for spinners. Each issue is packed with articles on all aspects of spinning such as wheels, spindles and other equipment, art yarn, dyeing, sheep breeding, patterns, as well as letters, directories of guilds and businesses, news and events.
The current issue (number 6) includes: 200th Anniversary celebration - the Newbury Coat, Boreray; A Spinner's View, Gandhi - Spinning's Greatest Spokesman, The Magic of Cochineal and much more.

Fleece directory
I have decided to stop buying and supplying raw fleece myself, instead I'll provide a directory to put sheep and alpaca owners in touch with spinners which will be free for listing and browsing.
The listing is now live at http://handspinner.co.uk/fleece-for-spinning.html and has contact details for a sheep owner with 25 Whitefaced Woodland fleeces going in return for postage plus a donation to his chosen charity.
If you have alpaca or sheep fleece and would like an entry in the directory, please contact me
NB: If you're in the South-West, please visit http://www.wooldirectory.org.uk which is a much more specialised directory. I will try and promote that one alongside mine - I'm trying to help folks nationally who have contacted me because they have or want to buy fleece.
I do still have plenty of zwartbles fleece which I'm selling washed or unwashed.
---
Events 2011 (get 'em in your diary now)
FibreFest
20 & 21 August 2011, Bicton College, Nr. Exeter, Devon
There will be something here to interest all those fascinated by fibre, with as wide a range of activities as possible. Trade stands offering yarns, braids and cloth plus a full range of supporting craft equipment. Get acquainted with some of our fibre animals.
Tutors will be holding inspirational in-depth Workshops, taster sessions and Seminars. Additional features include an Exhibition by Bicton's Fibre Craft Students..
British Wool Weekend
3 & 4 September 2011, Hall 2, Great Yorkshire Showground, Harrogate.
A showcase to promote all aspects of wool production in the UK and its many uses. This event will highlight a vast range of talented craftspeople and textile artists who use British wool and its by-products in their work.
You can now book at britishwool.net/
Wool Week UK
5 - 11 September 2011
The Campaign for Wool has been set up to reverse the decline of our sustainable and environmentally-friendly material. Various events during this week will bring the campaign to the fore.

Selvedge is feeling blue - an indigo study day
06 September 13:30 - 17:30 Fenton House Hampstead
Join Selvedge at Fenton House in Hampstead, for an indigo study day beginning with the first UK screening of Mary Lance's feature-length documentary, a talk by renowned indigo expert Jenny Balfour PaulBlue Alchemy. Ian and Bernadette Howard, owners of Woad Inc will also be demonstrating woad dyeing in the beautiful gardens.
http://www.facebook.com/event.php?eid=223137781060305
---
Courses and tuition
Please let me know if you are or you know a tutor with a calendar of events.
---
As usual, if you know anything spinning-related, please let me know.
Happy spinning and don't be a stranger!
Shiela
If you're reading this newsletter on the web and would like it delivered to your email inbox every month, just fill in your email address in the box somewhere up there on the right. If you've reading this in your inbox and would prefer not to receive any more, just use the Mailchimp 'unsubscribe' link at the foot of the email.
---
Previous issues of this newsletter:
---
If you've enjoyed reading this, another way to share it with your friends is to use these sites:
Fibre

A range of fibre from wool to exotic and luxury fibre for spinning, dyeing, felting: wool, silk, alpaca, cashmere, mohair, camel, yak and angora ready to spin. Also raw fleece and colour bundles and original mixes
Spinning wheels

A range of Ashford Spinning Wheels, either delivered quickly to your door, or assembled and finished for free. Also my hand painted spinning wheels. I usually have some second hand spinning wheels too.
Getting started

Hand / drop spindles, Starter kits, How to... articles and videos, books, starter fibre bundle
Magazines and cards

Why not add one or two to your order? These cards, hand made by Jules of 'Always with a Heart' feature a textured sheep. Perfect for your friends or for the spinner / knitter in your life. I now stock Selvedge magazine and Yarnmaker magazine.